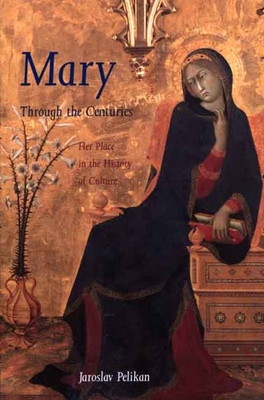 Mary Through the Centuries
Her Place in the History of Culture
Paperback

* Individual store prices may vary.
Description
The Virgin Mary has been an inspiration to more people than any other woman who ever lived. For Catholics, Protestants, Jews, and Muslims, for artists, musicians, and writers, and for women and men everywhere she has shown many faces and personified a variety of virtues. In this important book, a world-renowned scholar who is the author of numerous books—including the best-selling Jesus Through the Centuries—tells how Mary has been depicted and venerated through the ages.

Jaroslav Pelikan examines the biblical portrait of Mary, analyzing both the New and Old Testaments to see how the bits of information provided about her were expanded into a full-blown doctrine. He explores the view of Mary in late antiquity, where the differences between Mary, the mother of Christ, and Eve, the "mother of all living," provided positive and negative symbols of women. He discusses how the Eastern church commemorated Mary and how she was portrayed in the Holy Qur'an of Islam. He explains how the paradox of Mary as Virgin Mother shaped the paradoxical Catholic view of sexuality and how Reformation rejection of the worship of Mary allowed her to be a model of faith for Protestants. He considers also her role in political and social history. He analyzes the place of Mary in literature—from Dante, Spenser, and Milton to Wordsworth, George Eliot, and Goethe—as well as in music and art, and he describes the miraculous apparitions of Mary that have been experienced by the common people.

Was Mary human or divine? Should she be revered for her humility or her strength? What is her place in heaven? Whatever our answers to these questions, Mary remains a symbol of hope and solace, a woman, says Pelikan, for all seasons and all reasons.
Praise For Mary Through the Centuries: Her Place in the History of Culture…
"After finishing Pelikan's book, one must surely conclude that the Virgin is as fortunate in the 'subtlety and discrimination' of her 20th-century chronicler as she has been in her composers."—John B. Breslin, Washington Post Book World

"There can be no doubt that the Queen of Heaven would be pleased with this accolade, and no reader will come away from the work without profit."—Jo Ann Kay McNamara, New York Times Book Review

"A lively and visually beautiful volume that any thoughtful reader can enjoy. . . . For anyone seeking an introduction to the cultural history of the figure of Mary, . . . this book is indispensable, delightful in its intelligence, learning, and remarkable beauty."—David Myers, Chicago Tribune
"This inclusive work covers it all, and in doing so helps explain the importance and attraction Mary has had over the centuries for various cultures and religions."—Publishers Weekly

"Even the general reader with an interest in the subject will be mesmerized by [Pelikan's] lucidity and analysis. As a writer, Pelikan has an enviable way with words."—Dorothy A. Boyd-Rush, History

"An excellent overview of the Marian literature, ancient and modern."—Booklist
"Devotees and critics of Marian spirituality are both likely to find Jaroslav Pelikan's accessible, authoritative, and dispassionate history illuminating. . . . Pelikan's learned study should dispel many misconceptions."—Karen Armstrong, Boston Book Review

"Pelikan has made a valuable contribution for scholars and others interested in the development of doctrine, in Mary and in the ways in which all generations have called Mary 'blessed," through art, music and literature."—Margaret Nutting Ralph, Lexington Herald-Leader

"A fascinating account of the intense popularity of, and the phenomenally varied devotion to, the woman whom her cousin Elizabeth called 'the Mother of my Redeemer.' . . . To judge by [the book's] gentle tone, the suavity of its style, and the grace of the writing it seems also to have called forth [Pelikan's] love as well. . . . Its glory is that it itself is the work of art Nietzsche so praised in all honest history: history written in love."—Edward T. Oakes, First Things
"Pelikan's scholarship is wide and deep. . . . His presentation of the visual, literary and musical treatment of Mary is well-grounded and richly detailed. . . . Enlightening and fulfilling."—Judith Bromberg, National Catholic Reporter

"Pelikan provides us with a valuable resource and a guide for healthy theological discussion with an emphasis on Mary's place in faith enculturation. . . . As meditations or inspirational reading, this book maps out a spiritual love affair which has engaged humanity with Mary for centuries."—Barbara Beckwith, St. Anthony Messenger

"Illustrated with beautiful color plates that capture the extraordinary artistic focus on Mary, Pelikan demonstrates how Marian theology and piety interacted with the cultural and social context of each age. This is an informative and respectful study by a first-rate Protestant scholar-and that itself is a hopeful sign of the times."—Bible Today

"Anyone interested in lucid writing, in perceptive historic, artistic, and theological musings, and in the development of doctrine and spirituality will certainly enjoy reading Mary Through the Centuries."—Robert Brusic, Word & World

"Pelikan's history unfolds with great grace, and the illustrations show its cultural impact in paintings, sculptures, and icons from a variety of nations and periods. Those looking for a theological quarrel about the Virgin will have to turn to sectarians and feminists. Those who wish to appreciate why the Marian tradition lies close to the heart of nearly two thousand years of Christian culture now have no better or wise guide than Jaroslav Pelikan."—Robert Royal, University Bookman
"The strengths of this volume include its ecumenical scope, its use of diverse sources, its wealth of erudite detail, its interesting connections, and its readability—which make key moments of the marian tradition accessible to an educated reading public."—Elizabeth A. Johnson, Theological Studies

Yale University Press, 9780300076615, 288pp.
Publication Date: September 10, 1998
About the Author
Jaroslav Pelikan is Sterling Professor of History Emeritus at Yale University. He has received honorary degrees from universities all over the world, as well as medals and awards from many scholarly societies and institutions, including the Jefferson Award of the National Endowment for the Humanities, the highest honor conferred by the U.S. government on a scholar in the humanities. He is currently president of the American Academy of Arts and Sciences.
or
Not Currently Available for Direct Purchase