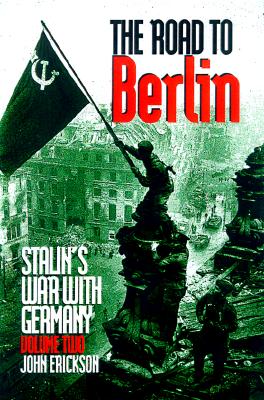 The Road to Berlin (Paperback)
Stalin`s War with Germany, Volume Two
Yale University Press, 9780300078138, 896pp.
Publication Date: June 10, 1999
Other Editions of This Title:
Paperback (6/10/1999)
Hardcover (9/13/2019)
Paperback (6/1/2007)
Hardcover (4/16/1984)
* Individual store prices may vary.
Description
Completing the most comprehensive and authoritative study ever written of the Soviet-German war, John Erickson in this volume tells the vivid and compelling story of the Red Army's epic struggle to drive the Germans from Russian soil. Beginning with the destruction of the German Army at Stalingrad, he describes a campaign of almost unimaginable hardship and fighting that led to the Soviet invasion of the Reich and the triumphant capture of Berlin.

"Monumental. . . . In the future, no history of the Russo-German war can be written without reference to Erickson's detailed research and brilliant narrative."—Steven T. Ross, Naval War College Review

"Erickson is our most eminent expert on Russian military history. . . [and] one of the foremost historians of the twentieth century. There is little doubt that his books will remain the definitive study of this period of Soviet history for the foreseeable future."—Michael Parrish, American Historical Review

"As close to being the definitive work on Soviet strategy, and the military history, as it is possible to imagine."—Norman Stone, The Observer

"With unflagging energy Professor Erickson has completed his task with a second volume in every way equal to the first. . . . [He] carries his readers along by the sheer vigour of his style and by his vivid account of the harrowing events with which he has to deal."—Sunday Times

"This is a book which every thinking soldier and every student of military history simply has to read."—British Army Review
About the Author
John Erickson is professor of politics and director of Defence Studies at the University of Edinburgh.