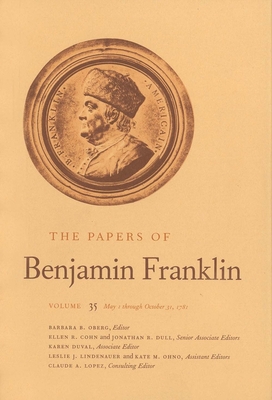 The Papers of Benjamin Franklin, Vol. 35
Volume 35: May 1 through October 31, 1781
Hardcover

* Individual store prices may vary.
Other Editions of This Title:
Hardcover (1/13/2009)
Hardcover (2/9/2004)
Hardcover (12/29/1993)
Hardcover (12/25/1996)
Hardcover (9/10/1986)
Hardcover (11/23/1988)
Hardcover (9/10/1965)
Hardcover (9/10/1968)
Hardcover (9/10/1963)
Hardcover (9/10/1963)
Hardcover (9/10/1962)
Hardcover (9/10/1961)
Hardcover (9/10/1961)
Hardcover (9/10/1960)
Hardcover (9/10/1969)
Hardcover (9/10/1984)
Hardcover (9/10/1970)
Hardcover (9/10/1987)
Hardcover (9/10/1972)
Description
During the six months from May through October 1781, Benjamin Franklin continues to address important diplomatic, political, and economic matters as minister plenipotentiary to France. While the decisive Yorktown campaign is waged in America, Franklin, a distant observer, faces a battle of his own--to save America's financial credit in Europe. Congress has drawn so many bills on him, on John Jay in Spain, and on John Adams in the Netherlands that Franklin, ultimately responsible for all of them, faces the danger of bankruptcy. Here, as at Yorktown, French help permits the young nation to weather the crisis.

Having recovered from a prolonged spell of gout and having learned that he will be retained as American minister in France, Franklin is revived in health and spirits. He undertakes his many public responsibilities with renewed vigor and is appointed by Congress to a five-member commission to negotiate peace with Britain. Franklin finds time for experiments with different inks and paper, masonic activities, purchasing books and exchanging them with friends, and maintaining a wide correspondence that provides exceptionally revealing glimpses of his thinking on science, politics, and Indian languages.

Publication of this volume was assisted by a grant from the National Historical Publications and Records Commission.

Yale University Press, 9780300078411, 812pp.
Publication Date: December 11, 1999
or
Not Currently Available for Direct Purchase