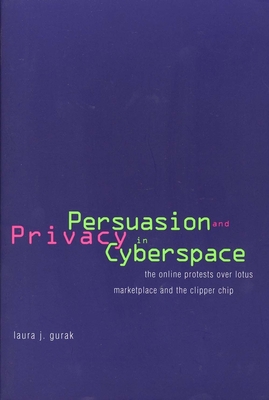 Persuasion and Privacy in Cyberspace
The Online Protests over Lotus MarketPlace and the Clipper Chip
Paperback

* Individual store prices may vary.
Description
What happens when the Internet is used as a forum for public debate? Does the speed and power of computer-mediated communication foster democratic discourse and protest? This fascinating book examines two examples of social action on the Internet—the organized protests against Lotus MarketPlace and the Clipper chip—in order to evaluate the impact of the net on our social and political life.

In 1990, Lotus Development Corporation announced the forthcoming production of a direct-mail marketing database that would contain the names, addresses, and spending habits of 120 million American consumers. A grassroots outcry on the Internet resulted in a decision by Lotus to cancel the project. In 1994, the U.S. government proposed a new encryption standard called the Clipper chip, which, for the purposes of national security, could decrypt any message on any telephone in which it was installed. This encryption standard was implemented, despite opposition in the form of an online petition of more than 40,000 signatures. Laura J. Gurak tells the full stories of these protests, analyzes the resulting rhetoric and the reasons for the different outcomes, considers positive and negative aspects of computer-mediated communication, and challenges claims about cyberspace as a bastion of free speech by pointing out problems of access, structure, and gender bias on the Internet. In addition, since both cases involved technologies that raised concerns about the right to privacy on the Internet, she discusses issues of privacy in cyberspace.


Yale University Press, 9780300078640, 198pp.
Publication Date: February 8, 1999