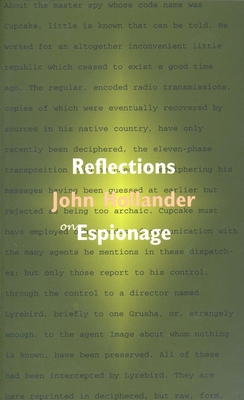 Reflections on Espionage
The Question of Cupcake
Paperback

* Individual store prices may vary.
Description
This book-length poem by one of the major poets of our era is structured as a series of messages transmitted by a master spy to the director of spy operations and to a number of his fellow spies. The spy speaks of his own alienation and sense of purposelessness as a secret agent—a metaphor for a human existence committed to ordering, deciphering, and making sense of a world of random signs. First published in 1974, the book is now reprinted with a substantial introduction by the author that elaborates on the genesis of the poem, the literary figures who inspired some of the characters, the poem's reception, and other matters.

Reviews of the earlier edition:

"These poems can be read and admired for their fluidity, their wonderful diversity of significance. . . . Many delights."—Richard Poirier, Los Angeles Times

"Hollander's arch and subtle long poem allegorizes the mirror closeness between raveller and unraveller."—George Steiner, New Yorker

"Hollander explores with wit and virtuosity the pleasures of poetry (encipherment) and the trials of the workaday world (one's 'cover.') . . . A rich, intelligent poem . . . a special pleasure for those with an ear for allusions, parodies, and puns."—Library Journal
Yale University Press, 9780300079661, 104pp.
Publication Date: November 10, 1999