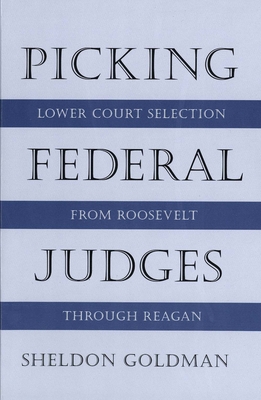 Picking Federal Judges
Lower Court Selection from Roosevelt through Reagan
Paperback

* Individual store prices may vary.
Description
A president's least-noticed important legacy is his appointment of judges to the lower federal bench. How are these judges chosen? What happens behind the scenes? How important are senators, party organizations, the American Bar Association, and others in the selection process?

In this landmark book, a leading authority on lower federal court judicial selections tells the riveting story of how nine presidents over a period of fifty-six years have chosen federal judges. Sheldon Goldman has interviewed participants, and he has mined published and unpublished government documents and archives, along with memos, letters, and other documents in the papers of every president from Franklin Roosevelt through Ronald Reagan, to bring to life the judicial selection process. His book is filled with richly drawn and dramatic accounts of each president's use of judicial appointments to further policy, partisan, and personal agendas. Goldman analyzes political and social changes that have occurred over the years and the impact of those changes on the profile of those selected for the bench. His statistical portraits of the backgrounds of each administration's appointees point up the changing face of the federal judiciary. The author also documents the responses of each presidential administration to calls for gender and race diversification of the bench. Casting bright light on the little-known details of judicial selection politics, Picking Federal Judges is sure to become the definitive book on this subject.
Yale University Press, 9780300080735, 448pp.
Publication Date: September 10, 1999