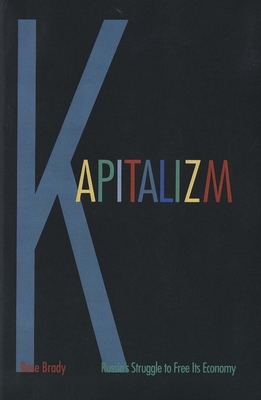 Kapitalizm
Russia's Struggle to Free Its Economy
Paperback

* Individual store prices may vary.
Description
As Moscow bureau chief for Business Week magazine, Rose Brady was on the scene during the fall of the Soviet Union and the key early years of Russia's transformation from a socialist state to a market economy. Brady interviewed scores of major political and economic figures, entrepreneurs, and ordinary Russian citizens, all of whom confronted enormous changes during the first five years of economic reform. In this compelling book, Brady provides one of the first accounts of Russia's transition period written by an observer without a personal stake in the reform efforts' outcome. The author takes readers into the factories, stores, banks, impromptu markets, homes, and schools of Russia, as well as into the corridors of power, to explain how the country's own brand of capitalism has evolved.

The book describes the shock to citizens when Boris Yeltsin's government liberated prices in 1992; the early entrepreneurs who scrambled for position as state assets were privatized; privatization chief Anatoly Chubais's crucial compromises, which altered the shape of Russian capitalism; and the development of an oligarchical system dominated by a handful of financial-industrial conglomerates. Some people have been left behind in poverty, sickness, and confusion as Russia has lurched toward capitalism, Brady concludes, yet by 1997, with private-sector domination of the economy, Russia had achieved an essentially successful economic transformation.
Yale University Press, 9780300082623, 320pp.
Publication Date: April 10, 2000
About the Author
Rose Brady is editor of European and Latin American editions of Business Week magazine. As the magazine's Moscow bureau chief from 1989 to 1993, Brady covered the collapse of the Soviet Union and the launch of Russia's radical economic reforms. Since 1994 she has returned for a number of extended visits to cover, among other events, Boris Yeltsin's reelection and the rise of Russia's tycoons.