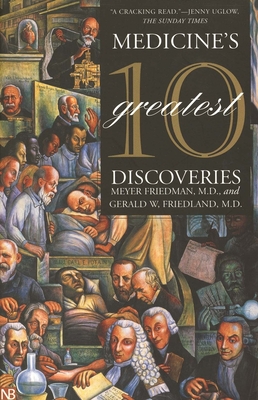 Medicine's 10 Greatest Discoveries
Paperback

* Individual store prices may vary.
Description
In 1675, Antony van Leeuwenhoek, an unlearned haberdasher from Delft, placed a drop of rainwater under his microscope and detected thousands of tiny animals in it. Leeuwenhoek proceeded to examine the microscopic activity of his spittle, teeth plaque, and feces, and as the result of his findings the field of bacteriology was born. Some two hundred years later, Wilhelm Conrad Roentgen, a professor of theoretical physics at the University of Wurzburg, invited his wife to his laboratory, asked her to place her hand on an unexposed photographic plate, turned on an electric current, and showed this terrified woman a picture of the bones of her hand. And so came the discovery of the X-ray.

This absorbing book is the first to describe these and eight other monumental medical discoveries throughout history, bringing to life the scientific pioneers responsible for them and the excitement, frustrations, and jealousies that surrounded the final achievements. Two distinguished physicians, Meyer Friedman and Gerald W. Friedland, have drawn on their many years of experience as well as on that of world-renowned antiquarian book dealers, physician collectors of old and new medical publications, and medical school professors to single out these medical breakthroughs from thousands of candidates, and, in several cases, to provide information never before available. Their engrossing stories of the ten most significant discoveries will be read with enjoyment by anyone fascinated by the mysteries of medicine.



Yale University Press, 9780300082784, 296pp.
Publication Date: August 11, 2000
About the Author
Meyer Friedman, M.D., the discoverer of Type A behavior and its relation to heart disease, is director of the Meyer Friedman Institute, University of California San Francisco-Mount Zion Medical Center. In addition to his voluminous medical publications, he has written the bestsellers Type A Behavior and Your Heart and Treating Type A Behavior and Your Heart. Gerald W. Friedland, M.D., is professor emeritus in the department of radiology at the Stanford University School of Medicine and the author of many books and articles dealing with radiology, anatomy, embryology, physiology, and the history of medicine.