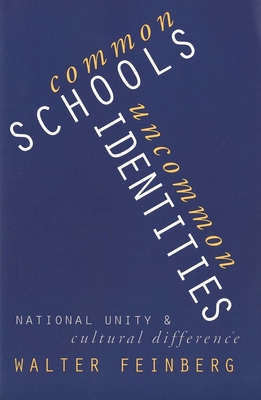 Common Schools/Uncommon Identities
National Unity and Cultural Difference
Paperback

* Individual store prices may vary.
Description
One of the most hotly debated issues in contemporary education concerns the tension between the demands of such groups as blacks, Latinos, gays, women, and the handicapped for a curriculum that recognizes their particular identity—and the competing position that the role of public education is to infuse children with a common American identity. In this book, a distinguished philosopher of education takes on that debate, indicating the underlying ethical issues on each side and showing how schools can promote both national and cultural identities.

Walter Feinberg develops a theory of education that is twofold: it is sensitive to the concerns of parents and community members who want the public schools to reinforce their particular values and group identity, and it also maintains a commitment to the "principled reasons" for public education—the general ideals that public education shares with a liberal political philosophy, particularly equality of educational opportunity, freedom of association, and individual development. Feinberg develops an understanding of basic principles that schools should use in addressing cultural differences, tests these and shows how liberalism is indeed compatible with cultural recognition.
Yale University Press, 9780300082920, 278pp.
Publication Date: April 10, 2000