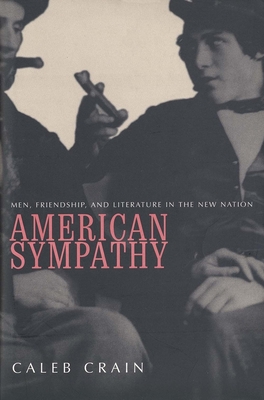 American Sympathy
Men, Friendship, and Literature in the New Nation
Hardcover

* Individual store prices may vary.
Description
"A friend in history," Henry David Thoreau once wrote, "looks like some premature soul." And in the history of friendship in early America, Caleb Crain sees the soul of the nation's literature.

In a sensitive analysis that weaves together literary criticism and historical narrative, Crain describes the strong friendships between men that supported and inspired some of America's greatest writing--the Gothic novels of Charles Brockden Brown, the essays of Ralph Waldo Emerson, and the novels of Herman Melville. He traces the genealogy of these friendships through a series of stories. A dapper English spy inspires a Quaker boy to run away from home. Three Philadelphia gentlemen conduct a romance through diaries and letters in the 1780s. Flighty teenager Charles Brockden Brown metamorphoses into a horror novelist by treating his friends as his literary guinea pigs. Emerson exchanges glances with a Harvard classmate but sacrifices his crush on the altar of literature--a decision Margaret Fuller invites him to reconsider two decades later. Throughout this engaging book, Crain demonstrates the many ways in which the struggle to commit feelings to paper informed the shape and texture of American literature.

Yale University Press, 9780300083323, 320pp.
Publication Date: May 11, 2001