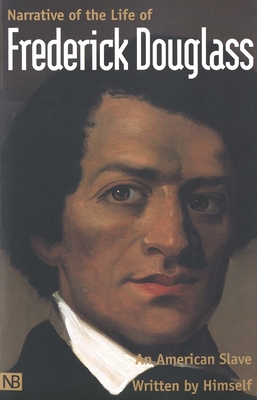 Narrative of the Life of Frederick Douglass, An American Slave (Paperback)
Written by Himself
Yale University Press, 9780300087017, 192pp.
Publication Date: February 8, 2001
Other Editions of This Title:
Digital Audiobook (8/16/2009)
Paperback (9/25/2019)
Paperback (9/26/2018)
Paperback (2/9/2013)
Paperback (3/1/2019)
Paperback (5/31/2019)
Paperback (1/24/2019)
Paperback (7/14/2019)
Paperback (3/15/2016)
Paperback (10/3/2014)
Paperback (6/16/2011)
Paperback (9/1/2014)
Paperback (10/13/2019)
Paperback (1/31/2019)
Paperback (1/23/2012)
* Individual store prices may vary.
Description
The powerful story of slavery that has become a classic of American autobiography, now in an authoritative edition

Frederick Douglass's autobiography, Narrative of the Life of Frederick Douglass, An American Slave, is widely regarded as a classic of American nineteenth-century history, of African-American studies, and of literature. In 1845, just seven years after his escape from slavery, the young Douglass published this powerful account of his life as a slave and his triumph over oppression. The book, which marked the beginning of Douglass's career as an impassioned writer, journalist, and orator for the abolitionist cause, reveals the terrors he faced as a slave, the brutalities of his owners and overseers, and his harrowing escape to the North. 
 
This edition of the book, based on the authoritative text that appears in Yale University Press's multivolume edition of the Frederick Douglass Papers, is the only edition of Douglass's Narrative designated as an Approved Text by the Modern Language Association's Committee on Scholarly Editions. It includes a chronology of Douglass's life, a thorough introduction by the eminent Douglass scholar John Blassingame, historical notes, and reader responses to the first edition of 1845.
 
"None so dramatically as Douglass integrated both the horror and the great quest of the African-American experience into the deep stream of American autobiography. He advanced and extended that tradition and is rightfully designated one of its greatest practitioners."—John W. Blassingame, from the introduction

 
About the Author
Frederick Douglass (1818–1895) was an African American abolitionist and social reformer, author, orator, and      statesman. John R. McKivigan is Mary O'Brien Gibson Professor of History at Indiana University–Purdue             University, Indianapolis. Peter P. Hinks is a public historian, historical editor, and author of numerous essays and books on African American and American history before the Civil War. Heather L. Kaufman is the coeditor of several volumes on Douglass and a research associate of the Douglass Papers.
Praise For Narrative of the Life of Frederick Douglass, An American Slave: Written by Himself…
"Now this classic work is available in an authoritative edition priced for students as well as established scholars, and useful to both as well. Blassingame and his collaborators have done a fine job providing a thorough amount of material that enables readers to contextualize Douglass's work and his words. Most interesting—and perhaps most useful for those teaching the text—are the reader responses to the original 1845 edition which provide a broad avenue into the major social issues that surrounded the tale at its first publication, for many years afterwards, and that continue to haunt us today."—Virginia Quarterly Review
"None so dramatically as Douglass integrated both the horror and the great quest of the African-American experience into the deep stream of American autobiography. He advanced and extended that tradition and is rightfully designated one of its greatest practitioners."—John W. Blassingame, from the introduction