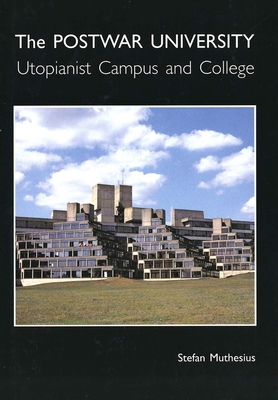 The Post-War University
Utopianist Campus and College
Hardcover

* Individual store prices may vary.
Description
A great expansion of universities in most of Western Europe and North America began in the late 1950s and continued to the early 1970s. In this comprehensive book, architectural historian Stefan Muthesius examines the post-war educational building boom and the rhetoric that surrounded it. He focuses on the period's widely shared utopianist beliefs that good planning and distinguished architecture could bring forth not only academically mature but also socially adjusted citizens.

The book describes the diverse approaches to the creation of new campuses in the United States, England, Canada, West Germany, and France, as each country dealt with the agendas of its own educators, sociologists, politicians, campus planners, and architects. Muthesius explores the full range of responses to the utopian dreams, from the initial boundless enthusiasm for the new university as an ideal and total environment, to the rejection by rebellious students for whom utopian plans smacked of paternalism, to the public's dislike of extravagant architecture and modernist buildings. As university planners today address the need (or lack of it) for new buildings, this book offers a timely reconsideration of architectural achievement in a period of intense institutionality.

Paul Mellon Centre, 9780300087178, 352pp.
Publication Date: February 8, 2001
About the Author
Stefan Muthesius teaches in the School of World Art Studies and Museology at the University of East Anglia. He is the author of many books and is coauthor with Miles Glendinning of Tower Block: Modern Public Housing in England, Scotland, and Northern Ireland, published by Yale University Press.

or
Not Currently Available for Direct Purchase