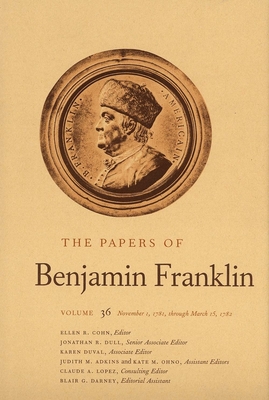 The Papers of Benjamin Franklin, Vol. 36 (Hardcover)
Volume 36: November 1, 1781, through March 15, 1782
Yale University Press, 9780300088700, 848pp.
Publication Date: December 11, 2001
Other Editions of This Title:
Hardcover (9/10/1963)
Hardcover (12/15/2006)
Hardcover (12/25/1996)
Hardcover (12/11/1998)
Hardcover (11/23/1988)
Hardcover (12/29/1993)
Hardcover (9/10/1969)
Hardcover (9/10/1970)
Hardcover (9/10/1963)
Hardcover (9/10/1968)
Hardcover (9/10/1962)
Hardcover (9/10/1961)
Hardcover (9/10/1961)
Hardcover (9/10/1960)
Hardcover (9/10/1972)
Hardcover (9/10/1987)
Hardcover (9/10/1974)
Hardcover (12/26/1990)
Hardcover (9/10/1976)
* Individual store prices may vary.
Description
As the volume opens, Franklin despairs of living long enough to see the war come to an end. He had been plagued by continued financial demands from Congress that he could not meet and was worried about how much further he could draw on France's goodwill. But on the evening of November 19, Vergennes received and forwarded to Franklin the news of Cornwallis's capitulation at Yorktown a month earlier. All France celebrated the Franco-American victory, and Franklin's life became a whirl of dinner parties and congratulations. Franklin spent the winter in excellent health and used this period of relative respite to intellectual advantage, buying books and attending scientific meetings. He could do little to hasten the war's end, however, and waited patiently for a change of policy by the British government. With the approach of spring, he received a series of letters on the failing fortunes of Lord North and his colleagues in the House of Commons. As the volume ends, Lord Cholmondeley is on his way to Paris. His arrival will offer Franklin a chance to make contact with a new British government that might negotiate for peace.
or
Not Currently Available for Direct Purchase