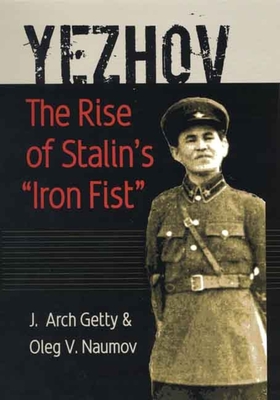 Yezhov
The Rise of Stalin's "Iron Fist" (Portraits of Revolution Series)
Hardcover

* Individual store prices may vary.
Description
The definitive study of Nikolai Yezhov's rise to become the chief of Stalin's secret police—and the dictator's "iron fist"—during the Great Terror

Head of the secret police from 1937 to 1938, N. I. Yezhov was a foremost Soviet leader during these years, second in power only to Stalin himself. Under Yezhov's orders, millions of arrests, imprisonments, deportations, and executions were carried out. This book, based upon unprecedented access to Communist Party archives and Yezhov's personal archives, looks into the life and career of the enigmatic man who administered Stalin's Great Terror.
J. Arch Getty and Oleg V. Naumov seek to answer a series of troubling questions. What kind of person calmly and efficiently sends thousands of innocent people to their deaths? What could prepare a man for such a role? How could a person whom acquaintances describe as friendly, pleasant, and even gallant carry out one of history's most horrifying campaigns of terror? The authors uncover the full details of Yezhov's rise to power and conclude that he was not merely Stalin's tool but a skillful maneuverer in his own right. The historical documents provide a thorough portrait of Yezhov and reveal a man of fanatical dedication to his leader and his party—a man who became a willing murderer. Readers will find his story chilling, the more so in our own times, when the impulse to terror that engulfed Yezhov seems neither surprising nor unfamiliar.
Praise For Yezhov: The Rise of Stalin's "Iron Fist" (Portraits of Revolution Series)…
"Until this book by Getty and Naumov, no scholar has treated Yezhov as a human being and sought to understand why he did inhuman things. . . . It is a disturbing tale, an all too common tale in modern history."—William Chase, author of Enemies Within the Gates? The Comintern and the Stalinist Repression, 1934–1939
— William Chase
"Yezhov is based on very thorough research, bringing to light many new and dramatic sources from the archives. The historiographical originality and verve of the work will make it an instant classic."—Lynn Viola, author of The Unknown Gulag: The Lost World of Stalin's Special Settlements
— Lynn Viola
"Thanks to Getty's diligent researches, Yezhov's career before the Great Purges finally comes into focus. Stalin's instrument he undoubtedly was, but not without agency and ambitions of his own."—Sheila Fitzpatrick, University of Chicago
— Sheila Fitzpatrick
"Meticulously sourced. . . . [An] absorbing read, and useful as a reminder of how cruel humans can be in the name of a cause."—James Critchlow,
The New Leader
— James Critchlow
Yale University Press, 9780300092059, 320pp.
Publication Date: June 17, 2008
About the Author
J. Arch Getty is professor of history, UCLA. He is a foremost expert of the Stalin period and the history of the Soviet Communist Party. He lives in Los Angeles. Oleg V. Naumov is deputy director of the Moscow archive of the former Soviet Communist Party, RGASPI. Getty and Naumov are coauthors of The Road to Terror: Stalin and the Self-Destruction of the Bolsheviks, 1932–1939, published by Yale University Press.