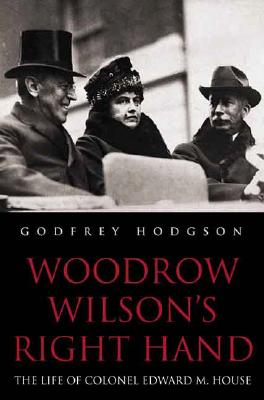 Woodrow Wilson's Right Hand (Hardcover)
The Life of Colonel Edward M. House
Yale University Press, 9780300092691, 372pp.
Publication Date: May 1, 2006
Other Editions of This Title:
Paperback (7/29/2008)
* Individual store prices may vary.
Description
The importance of Colonel Edward M. House in twentieth-century American foreign policy is enormous: from 1913 to 1919 he served not only as intimate friend and chief political adviser to President Woodrow Wilson but also as national security adviser and senior diplomat. Yet the relationship between House and the president ended in a quarrel at the Paris peace conference of 1919largely because of Mrs. Wilson's hostility to Houseand House has received little sympathetic historical attention since. This extensively researched book reintroduces House and clearly establishes his contributions as one of the greatest American diplomats.
A kingmaker in Texas politics, House joined Wilson's campaign in 1912 and soon was traveling through Europe as the president's secret agent. He visited Europe repeatedly during World War I and played a major part in draftingWilson's Fourteen Points and the Covenant of the League of Nations. He tried to stop the war before it began, and to end it by negotiation after it had started. His greatest achievement was to lock both sides into an armistice based on American ideals.
About the Author
Godfrey Hodgson is associate fellow, Rothermere American Institute, Oxford University. The author of "In Our Time: The United States from World War II to Nixon," Hodgson has also written biographies of Henry L. Stimson and Daniel Patrick Moynihan, as well as the pioneering article about the American foreign policy establishment.
Praise For Woodrow Wilson's Right Hand: The Life of Colonel Edward M. House…
"Hodgson introduces a twenty-first-century audience to an important figure from the Great War era, and in the process illuminates some roots of the difficulties now facing the United States and the world."—Gaddis Smith, Yale University





-Gaddis Smith

"Colonel House, partly by his own preference, was always in the shadows. Now, at last, Godfrey Hodgson has brought him into the light with this biography. It does full justice to a fascinating man and one whose greatest work coincided with the emergence of the United States as a world power."—Margaret MacMillan, author of Paris 1919: Six Months that Changed the World




-Margaret MacMillan

"Godfrey Hodgson has given us a splendid and long overdue biography of Colonel Edward M. House, Woodrow Wilson's alter ego and one of the most capable diplomats of the twentieth century. It is an elegantly told tale not simply of a single life nor the fondest of friendships but of an indispensable political partnership forged in the terrible second decade of the twentieth century, a malleable moment not unlike our own when the old world order collapsed and a new world order had yet to emerge."—Michael B. Stoff, University of Texas at Austin




-Michael B. Stoff
or
Not Currently Available for Direct Purchase