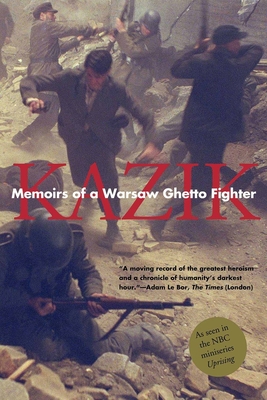 Memoirs of a Warsaw Ghetto Fighter
Paperback

* Individual store prices may vary.
Description
"In the first three days [of the Warsaw Ghetto uprising], the Germans didn't take a single Jew out of the buildings. After their attempts to penetrate the Ghetto had failed, they decided to spare themselves casualties by destroying it from outside with cannon and aerial bombings. A few days later the Ghetto was totally destroyed. . . . The 'streets' were nothing but rows of smoldering ruins. It was hard to cross them without stepping on charred bodies."—Kazik

When the Nazis decided to liquidate the Warsaw Ghetto in 1943, five hundred young Jewish fighters within the Ghetto rose up to defy them. With no weapons, no influence, and no experience in warfare, they managed to resist the Germans for almost a month. In the end, when the battle was lost, the surviving Jews were led out of the ruins through the sewers by a nineteen-year-old fighter known as Kazik. As head courier of the Jewish Fighting Organization (ZOB), which had planned and executed the uprising, Kazik spent the rest of the war helping to care for the several thousand Jews who still remained in Warsaw. This book—an extraordinary story of courage and perseverance—is Kazik's wartime memoir.

In stark, spare detail, Kazik reports on the efforts to prepare for the defense of the Warsaw Ghetto, the calamitous battle with the Germans, and the rescue of the few Jews who were still alive after the Ghetto was destroyed. He describes how he assumed a false Aryan identity in order to pass through the city as he collected money and found hiding places for the survivors. Constantly on guard, fearful of informers, his life always in danger, he nevertheless plotted resourcefully to aid his fellow Jews. He tells how he joined the Poles during their ill-fated uprising against the Nazis in Warsaw in 1944, had further brushes with death assisting the Polish underground, and returned to Warsaw to watch its liberation by the Russian army.

Suspenseful, moving, and remarkably heroic, Kazik's memoir is only the second source to be published on the Warsaw Ghetto Uprising. It will help demolish the image of Jews as submissive victims in the Holocaust.
Yale University Press, 9780300093766, 196pp.
Publication Date: October 11, 2001
or
Not Currently Available for Direct Purchase