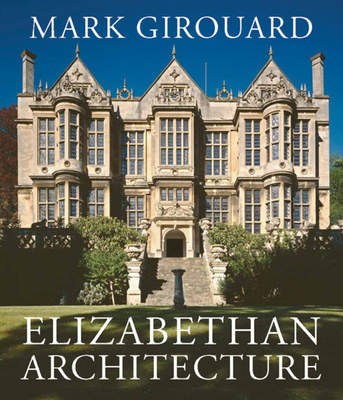 Elizabethan Architecture
Hardcover

* Individual store prices may vary.
Description
Elizabethan and Jacobean architecture— the uniquely strange and exciting buildings built by the great and powerful, ranging from huge houses to gem-like pavilions and lodges designed for feasting and hunting—is a phenomenon as remarkable as the literature that accompanied it, the literature of Shakespeare, Spenser, Sidney, Marlow, and others.

In this beautiful and fascinating book, Mark Girouard discusses social structure and the way of life behind it, the evolution of the house plan, the excitement of English patrons and craftsmen as they learned not only about the classic Five Orders and the buildings of Ancient Rome, the surprising wealth of architectural drawings that survive from the period, the inroads of foreign craftsmen who brought new fashions in ornament, but also the strength of the native tradition that was creatively integrated with the "antique" style. Behind the book is a vivid consciousness of the European scene: Italy, France, central Europe and above all the Low Countries and their influence on England. But the principal argument of the book is the unique individuality of the English achievement.

The result of new research and fieldwork, as well as a lifetime's observation and scholarship, this remarkable book displays Girouard's unique sense of style and his enduring excitement for the architecture of the period.
Praise For Elizabethan Architecture…
"If you are interested in high Elizabethan–style country houses, this is the book for you."--
Library Journal
— Library Journal
"This wondrous book--written by the preeminent historian of British architecture, and beautifully designed and printed. . . combines sweeping range and a precise grasp of detail."--Ben Schwarz,
The Atlantic

— Ben Schwarz
Winner of the 2010 Alice Davis Hitchcock Medallion, as given by the Society of Architectural Historians of Great Britain
— Alice Davis Hitchcock Award
"Girouard's synthesis of his own previous work and the work of other eminent architectural historians makes the book a very useful reference tool, which is bound to become a key source for students of Elizabethan architecture."—Rebecca Roberts,
Cahiers Elisabethains
— Rebecca Roberts
Shortlisted for the 2009 William M.B. Berger Prize for British Art History presented by the Berger Collection Educational Trust and
The British Art Journal
— William M. B. Berger Prize
"As one might well expect from a scholar who has dominated his field for over a half century, [the book] is nothing short of magisterial in its authority and encyclopedic in its range. . . . Between the bookends of the 1540s and 1630s, this full, gloriously illustrated (even by Yale's standards), and extensively documented work simply brims with copious examples of virtually every sort of architectural construct characteristic of the chosen era."—Robert Tittler,
Sixteenth Century Journal
— Robert Tittler
Paul Mellon Centre, 9780300093865, 400pp.
Publication Date: December 8, 2009
About the Author
Freelance architectural historian and writer, and identified in many minds with the best writing and scholarship on Egnlish architecture. Author of numerous Yale books.
or
Not Currently Available for Direct Purchase