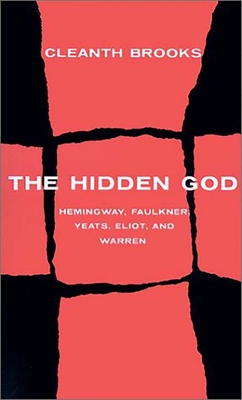 The Hidden God
Studies in Hemingway, Faulkner, Yeats, Eliot, and Warren
Paperback

* Individual store prices may vary.
Description
The clarity of style for which Mr. Brooks has long been noted is displayed to advantage in this newest book of his criticism. Originally delivered as lectures at a faculty conference of people interested in theology, the critical studies have special importance for all readers who would like a fresh perspective on five distinguished literary figures whose Christian commitment has been regarded as nonexistent or nebulous. Mr. Brooks believes that whatever a writer has to say about mankind, Christianity, or culture in general is most significantly explained through his achievements as an artist, and for that reason the critic here deals with the characteristic literary work of each author, rather than with his theology or philosophy. 


Yale University Press, 9780300094800, 152pp.
Publication Date: March 11, 1963