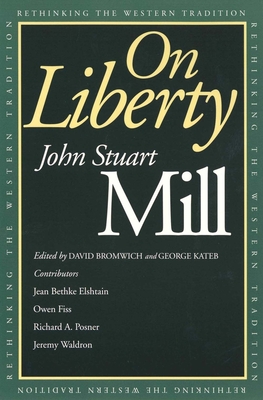 On Liberty (Rethinking the Western Tradition) (Paperback)
Yale University Press, 9780300096101, 272pp.
Publication Date: January 11, 2003
Other Editions of This Title:
Digital Audiobook (3/24/2011)
Paperback (11/18/2018)
Paperback (10/19/2013)
Paperback (3/30/2014)
Paperback (12/17/2010)
Paperback, Large Print (12/26/2019)
Paperback (12/19/2013)
Paperback (9/23/2019)
Paperback (1/31/2018)
Paperback (8/11/2011)
Paperback (1/1/2009)
Paperback (5/27/2015)
Paperback (11/24/2013)
Paperback (5/7/2011)
* Individual store prices may vary.
Description
Since its first publication in 1859, few works of political philosophy have provoked such continuous controversy as John Stuart Mill's On Liberty, a passionate argument on behalf of freedom of self-expression. This classic work is now available in a new edition that also includes essays by distinguished scholars in a range of fields.

The book begins with a biographical essay by David Bromwich and an interpretative essay by George Kateb. Then Jean Bethke Elshtain, Owen Fiss, Judge Richard A. Posner, and Jeremy Waldron present commentaries on the pertinence of Mill's thinking to current debates. They discuss, for example, the uses of authority and tradition, the shifting legal boundaries of free speech and free action, the relation of personal liberty to market individualism, and the tension between the right to live as one pleases and the right to criticize anyone's way of life.
About the Author
David Bromwich is Housum Professor of English at Yale University. George Kateb is William Nelson Cromwell Professor of Politics at Princeton University. Jean Bethke Elshtain is Laura Spelman Rockefeller Professor of Social and Political Ethics at the University of Chicago. Owen Fiss is Sterling Professor of Law at Yale University. Richard A. Posner is a judge of the U.S. Court of Appeals for the Seventh Circuit. Jeremy Waldron is Hilda Friedman Professor of Law at Columbia University.