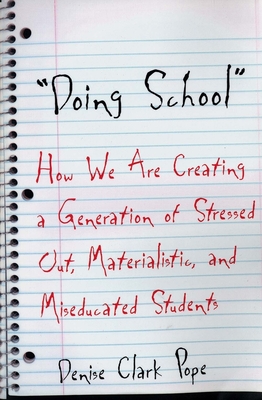 Doing School
How We Are Creating a Generation of Stressed-Out, Materialistic, and Miseducated Students
Paperback

* Individual store prices may vary.
Other Editions of This Title:
Paperback, Chinese (10/9/2019)
Description
This book offers a revealing—and troubling—view of today's high school students and the ways they pursue high grades and success. Veteran teacher Denise Pope follows five highly regarded students through a school year and discovers that these young people believe getting ahead requires manipulating the system, scheming, lying, and cheating. On the one hand, they work hard in school, participate in extracurricular activities, serve their communities, earn awards and honors, and appear to uphold school values. But on the other hand, they feel that in order to get ahead they must compromise their values. In short, they "do school"—that is, they are not really engaged with learning nor can they commit to such values as integrity and community.

The words and actions of these five students—two boys and three girls from diverse ethnic and socioeconomic backgrounds—underscore the frustrations of being caught in a "grade trap" that pins future success to high grades and test scores. Their stories raise critical questions that are too important for parents, educators, and community leaders to ignore. Are schools cultivating an environment that promotes intellectual curiosity, cooperation, and integrity? Or are they fostering anxiety, deception, and hostility? Do today's schools inadvertently impede the very values they claim to embrace? Is the "success" that current assessment practices measure the kind of success we want for our children?
 
Praise For Doing School: How We Are Creating a Generation of Stressed-Out, Materialistic, and Miseducated Students…
"A revealing look at the quandaries of today's high school students. . . . An essential purchase for high school, college, and university libraries and one strongly recommended for public libraries where interest in education is strong."—Library Journal


"A revealing look at the quandaries of today's high school students . . . for . . . libraries where interest in education is strong."—Library Journal

"A scholarly study presented with great clarity and enlivened by vignettes of student life, this work provides a fresh perspective on the state of American education, and yet another reason to press for systematic reform."—Publishers Weekly


"[An] eye-opening look at the underpinnings of public education."—Stephanie Zvirin, Booklist


"This work will interest specialists in anthropology of education, curriculum and instruction, secondary education, and educational leadership, as well as secondary school teachers, counselors, principals, and parents. Readers interested in qualitative and naturalistic research on young people will find a useful list of references and a well-constructed, concise, lucid, and credible write-up."—Choice


". . . [W]ill interest specialists in . . . education . . . counselors, principals, and parents . . . qualitative and naturalistic . . . a well-constructed, concise, lucid . . . credible write-up."—Choice

"A penetrating and troubling look at students in an American high school. . . . Pope allows her students to speak for themselves and their words are chilling, but they ring true to anyone familiar with the Bay Area high school scene."—Jill Wolfson, San Jose Mercury News


"A penetrating . . . troubling look at . . . an American high school . . . students speak for themselves . . . their words are chilling, but . . . ring true. . ."—Jill Wolfson, San Jose Mercury News

Named as a 2001 Notable Book in Education by the American School Board Journal


"Doing School isa loud wake-up call about the disconnect between what our best high schools and colleges say they are all about and the pressure they put on students. The book raises disturbing questions about the kind of 'high standards' we are pushing for in our schools. It should inform any discussion of what it means to be an educated person in the 21st century."—Edward B. Fiske, Editor, The Fiske Guide to Colleges, former Education Editor of the New York Times


"Doing School givesus a penetrating view of how students cope with the pressures of schooling. Just how they cope should concern all who want from education substantially more than the superficial accommodation that even high achieving students display. Pope's book should be read by policymakers at all levels of education."—Elliot W. Eisner, Lee Jacks Professor of Education and Professor of Art, Stanford University


"Pope, a former English teacher, writes like a dream. If I were a middle or high school teacher or administrator, I'd use this as a text with my students to prompt an exploration of life at school and with colleagues to talk about creating a different kind of school culture. I'd send it home for parents to read. I know this book will not only shake up feelings of complacency, but will also help us move toward creating schools which do much better by our kids' hearts and minds."—Kathy Simon, Horace: The Journal of the Coalition of Essential Schools



"In a book about a high school's best and brightest students, Denise Pope has captured the texture of their harried daily lives. These academically successful students describe a boot camp for college filled with anxiety, physical exhaustion, cheating, and a disregard for learning. They have mastered the game of 'doing school' and pay a steep price for their success. Reformers dead set on making all students academically successful need to hear these students' voices."—Larry Cuban, Professor of Education at Stanford University


"Many of my students remarked that Doing School reflectedtheir own secondary school experience, and that reading it forced them to consider that experience in light of their preparation to teach. Students also commented that they sat down to read the first chapter, and simply read the entire book in one sitting—it was that compelling and that well written."—Charles Dorn, Faculty Member, Santa Clara University



Yale University Press, 9780300098334, 240pp.
Publication Date: January 11, 2003
About the Author
Denise Pope is a lecturer at the Stanford University School of Education.