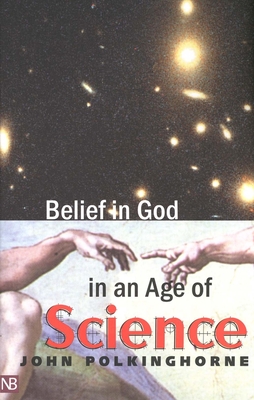 Belief in God in an Age of Science (The Terry Lectures Series)
Paperback

* Individual store prices may vary.
Description
John Polkinghorne brings unique qualifications to his exploration of the possibilities of believing in God in an age of science: he is internationally known as a theoretical physicist and as a theologian. In this thought-provoking book, Polkinghorne focuses on the collegiality between science and theology, contending that the inquiries of these "intellectual cousins" are parallel.
"Polkinghorne [presents] a polished and logically coherent argument."—Freeman J. Dyson, New York Review of Books
"Short, accessible, and authoritative."—Carlin Romano, Philadelphia Inquirer
"This book should be widely read."—Colin Tudge, New Statesman and Society
"If you read one book on science and religion, this should be it."—Kirkus Reviews
Praise For Belief in God in an Age of Science (The Terry Lectures Series)…
"Polkinghorne articulates a faith strengthened, not threatened, by the latest scientific research. Whether puzzling over the curious fit between the laws of physics and the requirements for life or tracing the similarities between the methods of the scientist and those of the theologian, Polkinghorne reasons with rare sophistication. . . . This book . . . holds rare promise for healing the secular-religious fissures in our fractured culture."—Bryce Christensen, Booklist


"[This book is] short, accessible and authoritative. . . . It's richly stimulating stuff."—Carlin Romano, Philadelphia Inquirer


"Polkinghorne is sound and scholarly."—The Globe and Mail


"Polkinghorne is clear that, by projecting on science his belief in God, he is following just one possible path in the human quest for meaning. This gives his book a feeling of mutual exploration that drew me in as a reader."—David K. Nartonis, Christian Science Monitor


"This book will certainly be of interest to theologians and scientists."—Publisher's Weekly


"A new dialog between religion and science has begun, . . . and in that conversation Polkinghorne holds a special place."—Library Journal


"A few major authors have helped convince readers that science and religion might have more in common than meets the eye, John Polkinghorne perhaps foremost among them."—Publishers Weekly


"An elegant, brief foray into the intersections of theology and science. While God-and-science appears to be a bandwagon, with a recent spate of books on this topic, few scientists or theologians could address its ramifications as gracefully as Polkinghorne of both subjects: a theoretical physicist of some renown, he is also an ordained clergyman and past president of Queens College. If you read one book on science and religion, this should be it."—Kirkus Reviews


"Polkinghorne finds faith strengthened by means of open dialogue between it and science, in which, for instance, chaos theory invites reflection on divine providence."—Booklist (From Booklist's Top 10 Books in Religion)


"A sophisticated, scientifically informed outlook, which is nonetheless animated by a firm, rationally supported religious faith. . . . Theologians and scientists alike will find food for thought here, and philosophers should take heed—for John Polkinghorne's intermarriage of scientific and theological insight may well presage a new 'post-secular' stage in Western thought."—Patrick Glynn, National Review


"Polkinghorne has a clear, focused style, and offers much to the reader seeking a synthesis of science with the tenets of established religion."—Jerome Groopman, Spirit and Science


"This book . . . presents many interesting arguments on the topics of theology and science . . . the book presents an interesting and thought provoking discussion of the relationship between religion and science."—Virginia Quarterly Review


"Belief in God in an Age of Science offers a scholarly presentation that should nevertheless have broad appeal, as Polkinghorne wields technical, scientific and theological terms with alacrity and eloquence without losing sight of the larger lay audience he clearly hopes to reach."—Edward B. Davis, American Scientist


"Polkinghorne's mastery of science and theology makes for some startlingly original and arresting insights and analogies. . . . Polkinghorne's book is full of . . . startling insights and observations. . . . The reader who invests the time and effort will find Belief in God in an Age of Science intellectually exciting and profoundly rewarding on the spiritual level."—James C. Roberts, Human Events


"This book represents a concise reformulation of [Polkinghorne's] most recent Terry Lectures and provides a much-needed summation to his work as a whole. . . . Its prose is dense and its arguments intellectually challenging. . . . Polkinghorne's analysis is welcome. . . . [His] work offers an important reminder, . . . that underlying all scientific endeavor is the inescapable presence of social values."—Steven W. Hook, Crisis


"Polkinghorne [presents] a polished and logically coherent argument."—Freeman J. Dyson, New York Review


"Any individual actively involved in the pursuit of knowledge and truth would do well to read and understand the arguments and challenges presented within the pages of this book."—Clyde L. Webster, Seminary Studies


"Those who wish to better understand the continuing debate about the compatibility of science and religion  should begin here."—William C. Graham, National Catholic Reporter


"A very impressive, intelligent, and lucid exploration into the relationship between science and religion."—Santiago Sia, Religion and the Arts


"Polkinghorne . . . is first and foremost a professional scientist, as he admits, and only secondarily a theologian. Yet his appeal for the need for more intense interdisciplinary work is a point well taken."—Barry Whitney, Religious Studies Review


Selected by American Library Association's Booklist as one of the Top Ten Books in Religion in 1998


Winner of the 1999 Prize for Outstanding Books in Theology and the Natural Sciences given by the Center for Theology and the Natural Sciences


Selected by Publishers Weekly as one of the Best Books of 1998


Shortlisted for a 2000 TORGI (Talking Book of the Year) Award, sponsored by the Canadian National Institute for the Blind


Winner of a 1999 Christianity Today Book Award


"In this lucid and honest work, John Polkinghorne states clearly where and why he agrees or disagrees with other contemporary writers. He presents a serious defense of a world view that must be considered seriously even by atheists."—Owen Gingerich, Harvard-Smithsonian Center for Astrophysics



Yale University Press, 9780300099492, 258pp.
Publication Date: February 8, 2003
About the Author
John Polkinghorne, K.B.E., F.R.S., is past President and now Fellow of Queens' College, Cambridge, and Canon Theologian of Liverpool, England. He is the winner of the 2002 Templeton Prize for Progress Toward Research or Discoveries about Spiritual Realities. Among his many other books are Faith, Science, and Understanding and The God of Hope and the End of the World, both published by Yale University Press.


or
Not Currently Available for Direct Purchase