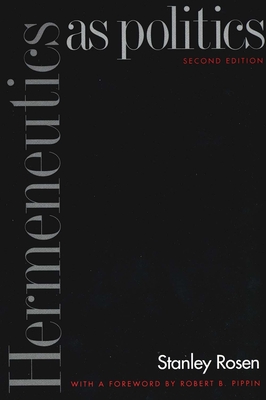 Hermeneutics as Politics
Second Edition
Paperback

* Individual store prices may vary.
Description
Hermeneutics as Politics, perhaps the most important critique of post-modern thought ever written, is here reissued in a special fifteenth anniversary edition. In a new foreword, Robert B. Pippin argues that the book has rightfully achieved the status of a classic. Rosen illuminates the underpinnings of post-modernist thought, providing valuable insight as he pursues two arguments: first, that post-modernism, which regards itself as an attack upon the Enlightenment, is in fact merely a continuation of Enlightenment thought; and second, that the extraordinary contemporary emphasis upon hermeneutics is the latest consequence of the triumph of history over mathematics and science.

"Perhaps the most original and philosophically important critical account of hermeneutics—of its philosophical status and historical development—to appear since Gadamer's Truth and Method."—Choice

"A philosophical polemic of the highest order written in a language of unfailing verve and precision. . . . It will repay manyfold the labour of a slow and considered reading."—J. M. Coetzee, Upstream
Yale University Press, 9780300099874, 240pp.
Publication Date: March 11, 2003