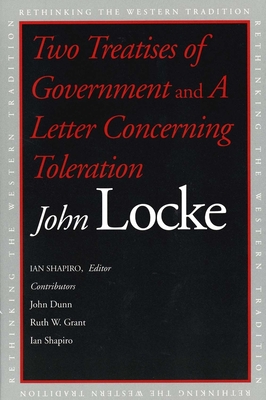 Two Treatises of Government and A Letter Concerning Toleration (Rethinking the Western Tradition) (Paperback)
Yale University Press, 9780300100181, 384pp.
Publication Date: November 10, 2003
Other Editions of This Title:
Paperback (5/6/2010)
Paperback (8/2/2018)
Paperback (11/10/2015)
Paperback (1/1/2005)
Hardcover (8/2/2018)
* Individual store prices may vary.
Description
Two of Locke's most mature and influential political writings and three brilliant interpretive essays combined in an outstanding new volume

Among the most influential writings in the history of Western political thought, John Locke's Two Treatises of Government and A Letter Concerning Toleration remainvital to political debates today, more than three centuries after they were written. The complete texts appear in this volume, accompanied by interpretive essays by three prominent Locke scholars. Ian Shapiro's introduction places Locke's political writings in historical and biographical context. John Dunn explores both the intellectual context in which Locke wrote the Two Treatises of Government and A Letter Concerning Toleration andthe major interpretive controversies surrounding their meaning. Ruth Grant offers a comprehensive discussion of Locke's views on women and the family, and Shapiro contributes an essay on the democratic elements of Locke's political theory. Taken together, the texts and essays in this volume offer invaluable insights into the history of ideas and the enduring influence of Locke's political thought.
About the Author
Ian Shapiro is William R. Kenan, Jr., Professor and chair, Department of Political Science, Yale University. John Dunn is professor of social and political science at Cambridge University. Ruth Grant is professor of political science at Duke University.

Praise For Two Treatises of Government and A Letter Concerning Toleration (Rethinking the Western Tradition)…
"The new standard edition of Locke for students of political theory. Dunn, Grant, and Shapiro combine authoritative historical scholarship and contemporary political theory to give us Locke for our time."—Elisabeth H. Ellis, Assistant Professor of Political Science, Texas A&M University
"In criticisms of 'liberalism' over the past two decades, the political philosophy of John Locke has been denigrated as hopelessly old-fashioned, and even downright conservative. John Dunn, Ruth Grant, and especially, Ian Shapiro present Locke to us afresh. They recover precisely the progressively innovative, and even radically democratic quality of Lockean political thought."—John P. McCormick, University of Chicago
"An elegant edition of three of Locke's works that have been too infrequently published together. The accompanying essays, with their additional secondary source references, and delightful index, make it all the more useful for both teaching and research."—Judith A. Swenson, Boston University