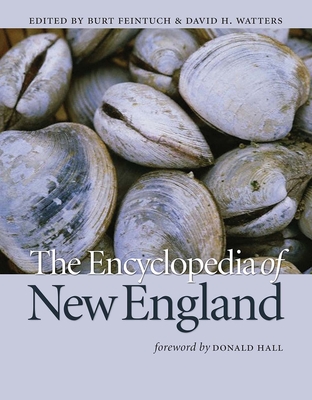 The Encyclopedia of New England
Hardcover

* Individual store prices may vary.
Description
An essential work, the first to celebrate, document, and interpret New England's  unique regional history and culture

Often defined by the familiar images of taciturn Yankees, town meetings, maple syrup, and rocky seacoasts, New England is both a distinctively American place and a distinctive place within America. Yet these images present only one aspect of the richly varied region that is New England in the twenty-first century. Today traditional scenes of white-clapboard buildings surrounding an idyllic village green, hillside farms, and red-brick mills rub shoulders with advanced research centers, nuclear power plants, and urban neighborhoods of immigrants from around the globe.
In entries written by leading authorities in the field, The Encyclopedia of New England presents a comprehensive view of this important region, past and present. Both authoritative and entertaining, this single-volume reference will be an invaluable resource for the scholar and an irresistible pageturner for the browser.
The Encyclopedia contains
• 1,300 alphabetically arranged entries examining significant people, places, events, ideas,and artifacts
• Fascinating and little-known facts that rarely appear in history books
• More than 500 illustrations and maps
• Contributions from nearly 1,000 distinguished scholars and writers, including journalists, academics, and specialists from museums, industries, and historical societies
• 1.5 million words in 22 thematic sections, ranging from agriculture to tourism, each with an introduction by a leading specialist in the field
• Extensive cross-references and a full index
Praise For The Encyclopedia of New England…
"What took so long? It's amazing no one thought of this before. No library in the six great states will be complete without The Encyclopedia of New England."—Dan Shaughnessy, author of Reversing the Curse
— Dan Shaughnessy
"In New England the fragments of centuries stitch us neatly together. . . . New England is empty mills, new inventions, wooden scythes, a Mother Hubbard wrapped in paper and stored in a chest, a snowmachine, biotechnology, and contrails from Logan to Pease Air Force Base streaking the blue air above the cellar hole of a farmer who came north after the Revolution to build his land."—Donald Hall, from the Foreword
— Donald Hall
"Filled with facts and ideas, The Encyclopedia of New England at once answers one's questions and expands one's thinking about New England as a mythic place and as the mindspring of American life."—Jane Nylander, former president of The Society for the Preservation of New England Antiquities
— Jane Nylander
"The culture of New England is far too rich to leave solely to academicians. An encyclopedia is a superb vehicle for integrating the academic and the popular. . . . I, for one, expect to read most every word of The Encyclopedia of New England." —Jere Daniell, Professor History, Dartmouth College
— Jere Daniell
"The Encyclopedia of New England is like your favorite ice cream sundae—a little bit of everything blended together to make the perfect treat."—Jerry Greenfield, co-founder of Ben and Jerry's Ice Cream
— Jerry Greenfield
"Enduring as New England's culture most certainly is, it has never been easily defined. But now, at long last, through the pages of this massive, beautifully-created work, New England emerges clearly as both vivid and distinct."—Judson D. Hale, Sr., Editor-in-Chief,
Yankee Magazine
and
Old Farmer's Almanac
— Judson D. Hale, Sr.
"Finally, the most livable, civilized, and interesting part of the country can prove it without bragging. This work of rigorous scholarship will delight readers of every stripe."—Ken Burns
— Ken Burns
"A great resource. Delightful."—Tracy Kidder, author of Mountains Beyond Mountains
— Tracy Kidder
Yale University Press, 9780300100273, 1596pp.
Publication Date: September 28, 2005
About the Author
BURT FEINTUCH is professor of Folklore and English and director of the Center for the Humanities at the University of New Hampshire. DAVID H. WATTERS is professor of English and director of the Center for New England Culture at the University of New Hampshire.
or
Not Currently Available for Direct Purchase