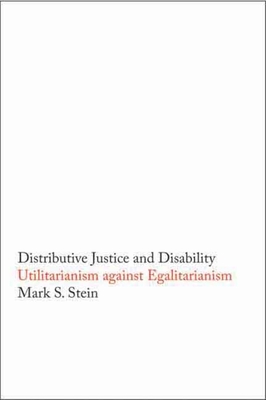 Distributive Justice and Disability
Utilitarianism against Egalitarianism
Hardcover

* Individual store prices may vary.
Description
Theories of distributive justice are most severely tested in the area of disability. In this book, Mark Stein argues that utilitarianism performs better than egalitarian theories in this area: whereas egalitarian theories help the disabled either too little or too much, utilitarianism achieves the proper balance by placing resources where they will do the most good.
Stein offers what may be the broadest critique of egalitarian theory from a utilitarian perspective. He addresses the work of egalitarian theorists John Rawls, Ronald Dworkin, Amartya Sen, Bruce Ackerman, Martha Nussbaum, Norman Daniels, Philippe Van Parijs, and others. Stein claims that egalitarians are often driven to borrow elements of utilitarianism in order to make their theories at all plausible.
The book concludes with an acknowledgment that both utilitarians and egalitarians face problems in the distribution of life-saving medical resources. Stein advocates a version of utilitarianism that would distribute life-saving resources based on life expectancy, not quality of life. Egalitarian theories, he argues, ignore life expectancy and so are again found wanting.
Distributive Justice and Disability is a powerful and engaging book that helps to reframe the debate between egalitarian and utilitarian thinkers.

Praise For Distributive Justice and Disability: Utilitarianism against Egalitarianism…
"Books that cast a long-running philosophical dispute in a fresh light are rare, but Distributive Justice and Disability is one of them. It is important, not only for what it says about justice for people with disabilities, but also for the way it transforms the debate about utilitarianism and egalitarianism."—Peter Singer, Princeton University


— Peter Singer
"Distributive Justice and Disability is an engaging, smart, and insightful book on a topic of social importance. Mark Stein's arguments are controversial and interesting, and his treatment is illuminating and helpful."—Anne L. Alstott, Jacquin D. Bierman Professor of Taxation, Yale Law School, and author of No Exit: What Parents Owe Their Children and What Society Owes Parents

— Anne L. Alstott
"Distributive Justice and Disability offers a powerful brief for a utilitarian theory of distributive justice over its most prominent rival, egalitarianism. Mark Stein's arguments are always pellucid and thoroughly engaging, and he handles the densest work of others with remarkable acuity. Bioethicists and political theorists will find this work invaluable."—Ellen Frankel Paul, Professor of Political Science and Philosophy, and Deputy Director, Social Philosophy and Policy Center, Bowling Green State University


— Ellen Frankel Paul
"Mark Stein has written a thoughtful and impressive book that makes an important contribution to utilitarian moral philosophy."—Julia Driver, Professor of Philosophy, Dartmouth College, and author of Uneasy Virtue

— Julia Driver
"Distributive Justice and Disability wrestles with many difficult and contentious issues, but Mark Stein has a talent for taking very complicated ideas and relating them in a clear and accessible manner. The author engages an important topic, one that promises to become even more timely over the coming years."—Grant Reeher, Associate Professor of Political Science and Senior Research Associate, Center for Policy Research, Syracuse University


— Grant Reeher
Yale University Press, 9780300100570, 316pp.
Publication Date: May 15, 2006
About the Author
Mark S. Stein is academic fellow at the Petrie-Flom Center for Health Law Policy, Biotechnology, and Bioethics, Harvard Law School.