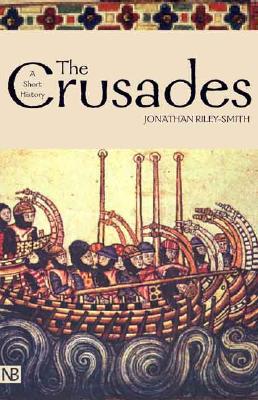 The Crusades (Paperback)
A History; Second Edition
Yale University Press, 9780300101287, 400pp.
Publication Date: June 11, 2005
* Individual store prices may vary.
Description
Jonathan Riley-Smith here provides a comprehensive history of the Crusades: an account of the theology of violence behind the Crusades, the major Crusades, the experience of crusading, and the crusaders themselves. With a wealth of fascinating detail, Riley-Smith brings to life these stirring expeditions to the Holy Land and the politics and personalities behind them. His book will be the standard and authoritative account of the Crusades for years to come. This new edition includes revisions throughout as well as a new Preface and Afterword in which Jonathan Riley-Smith surveys recent developments in the field and examines responses to the Crusades in different periods, from the Romantics to the Islamic world today.


From reviews of the first edition:

"Everything is here: the crusades to the Holy Land, and against the Albigensians, the Moors, the pagans in Eastern Europe, the Turks, and the enemies of the popes. Riley-Smith writes a beautiful, lucid prose, . . . [and his book] is packed with facts and action."—Choice
"A concise, clearly written synthesis . . . by one of the leading historians of the crusading movement. "—Robert S. Gottfried, Historian
"A lively and flowing narrative [with] an enormous cast of characters that is not a mere catalog but a history. . . . A remarkable achievement."—Thomas E. Morrissey, Church History
"Superb."—Reuven S. Avi-Yonah, Speculum
"A first-rate one-volume survey of the Crusading movement from 1074 . . . to 1798."—Southwest Catholic
About the Author
Jonathan Riley-Smith, Dixie Professor of Ecclesiastical History, University of Cambridge, is the author or editor of many books on the Crusades and the Middle Ages.

Praise For The Crusades: A History; Second Edition…
"Jonathan Riley-Smith's The Crusades . . . pulls off the enviable feat of summing up seven centuries of religious warfare in a crisp 309 pages of text."—Dennis Drabelle, Washington Post Book World
"In the present perplexing era of peacemaking by many Christians and of militant liberationing by other Christians, the Crusades of history demand particular attention/reflection. In this, the reading of Riley-Smith's book will be of great assistance."—ADRIS

"This is a fascinating and well-written account that will stimulate further interest in the history of crusades."—James M. Powell, Catholic Historical Review

"Everything is here: the crusades to the Holy Land, and against the Albigensians, the Moors, the pagans in Eastern Europe, the Turks, and the enemies of the popes. Riley-Smith writes a beautiful, lucid prose. . . . His history is packed with facts and action, up to date in the secondary literature, sound in its treatment of the subject, and reflective in its summaries."—Choice

"If you have been looking for a one-volume survey, you won't find a better one than this."—Christianity Today
"Riley-Smith provides an account of the Crusades from their origins to the loss of Malta by the Knights of St. John to Napoleon with a lively and flowing narrative and an enormous cast of characters that is not a mere catalog but a history. . . . The reader will find useful evaluations, comments, and explanations that touch on so many of the questions, along with an up-to-date view of current research and some possible answers. . . . This book is a remarkable achievement, well written, with useful maps and references for further reading."—Thomas E. Morrissey, Church History

"A concise work of clarity and scope, surveying the period 1097-1798. . . . [Riley-Smith is] a most distinguished historian of the Crusades."—Irene B. Katale, Journal of Church and State

"An up-to-date survey of the crusading movement from 1095 down to Napoleon's expulsion of the Knights of Saint John from Malta in 1798."—Journal of Religion
"An excellent reference book incorporating and assessing recent scholarship as well as long-established theories and accounts of the myriad interrelationships that help to explain this complicated story."—Madeline R. Robinton, Key Reporter

"The most complete single-volume history of the crusades."—Gregory G. Guzman, Library and Culture

"[A] superb achievement."—Reuven S. Avi-Yonah, Speculum—A Journal of Medieval Studies

"It makes for lively reading, and should become a classroom staple for a generation."—Robert S. Gottfried, The Historian

"A cogent, readable text."—Robert S. Gottfried, The Historian

"This is a concise, clearly written synthesis of the First Crusade by one of the leading historians of the crusading movement."—Robert S. Gottfried, The Historian
"This is a first-rate one volume survey of the Crusading movement from 1074, when the First Crusade was called, to 1798, when the fall of Malta signaled the end of the great adventure to save the Holy Land for Christendom. The author treats the crusades in turn in some detail, as well as outlining how the crusaders lived, how the crusades were paid for, and their ultimate effect upon the history of Europe and the Near East."—The Southwest Catholic

"The best short history of the crusades that I know of. Riley-Smith's work reflects the best recent scholarship and it is balanced and thorough throughout."—Edward Peters, University of Pennsylvania