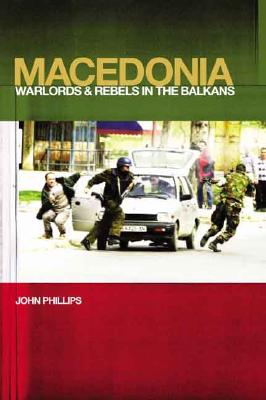 Macedonia (Hardcover)
Warlords and Rebels in the Balkans
Yale University Press, 9780300102680, 240pp.
Publication Date: September 10, 2004
Other Editions of This Title:
Hardcover (12/18/2013)
* Individual store prices may vary.
Description
A journalist offers a frontline report on the recent ethnic-based warfare in Macedonia that once threatened to engulf the Balkans—and may still do so in the future

The disintegration of Yugoslavia in the 1990s shattered the Balkans, unleashing the horror of extreme nationalism. Macedonia seemed to have been spared the bloodletting. In reality, it was only postponed. The newly independent Former Yugoslav Republic of Macedonia remains a powder-keg waiting to explode.
Journalist John Phillips describes the bloody rebellion initiated by Albanian guerrillas demanding rights equal to those of the dominant Slavs in Macedonia, a conflict that killed and wounded hundreds of people and set off fears that the crisis would draw in surrounding Kosovo, Albania, Bulgaria, and Greece. International intervention brought an uneasy halt to the bloodshed in the summer of 2001, but hardline Macedonian nationalists—including some under investigation by the international war crimes tribunal—have hindered full implementation of the peace agreement and may renew their campaign.
John Phillips has covered both the fighting on the front lines and the behind-the-scenes diplomatic intrigue in Macedonia. Now, presenting the events, politics, and personalities, he shows how the instability in Macedonia threatens any hope of a lasting peace in the Balkans.
About the Author
John Phillips has been a correspondent with the Times, London since 1992, covering Italy as well as the Croatian and Bosnian wars. Since 2000 he has been stationed in the Balkans, reporting on the overthrow of Slobodan Milosevic in Yugoslavia and the conflicts involving ethnic Albanian guerrillas in Macedonia and southern Serbia.
Praise For Macedonia: Warlords and Rebels in the Balkans…
Respected journalist John Phillips has covered front-line fighting in Macedonia as well as behind-the-scenes diplomatic intrigue. In this enlightening and unbiased report, he chronicles the recent ethnic conflicts and the unchecked political corruption, warning that Macedonia remains a powder keg the West must resolve to defuse.

"This is a cogent, judicious, layman-friendly journalistic report on an important, woefully under-covered conflict. Phillips does well in capturing the complexity—political, moral, communal—of the various sides; it doesn't oversimplify either the villainy of the villains or the virtues of the good guys."—Strobe Talbott, Brookings Institution

or
Not Currently Available for Direct Purchase