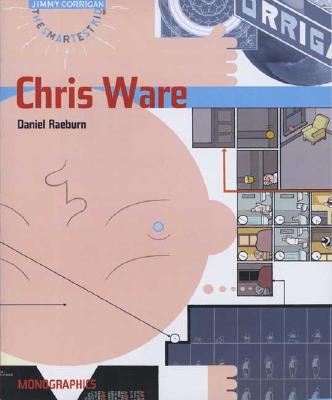 Chris Ware (Monographics)
Paperback

* Individual store prices may vary.
Description
A close-up look at the gifted graphic novelist the New York Times Book Review called "the most versatile and innovative artist the medium has ever known."

As one of today's most renowned cartoonists, Chris Ware is widely considered an artist of genius. Combining innovative comic book art, hand lettering, and graphic design, Ware's uniquely appealing work is characterized by ceaseless experimentation with narrative and graphic forms. The publication of his novel Jimmy Corrigan: The Smartest Kid on Earth in2000 inspired a near avalanche of praise from critics and general readers alike. This book is the first to explore the life and work of Chris Ware.

Daniel Raeburn looks closely at Ware's career, work methods, and artistic innovations. Born in Omaha in 1967, Ware introduced the character Jimmy Corrigan in a full-page strip he began writing for the Chicago tabloid New City. Combining six years' worth of the strips, Ware created the best-selling novel named after Jimmy that spans an Irish-American family's life in Chicago from the Civil War to the present. For its experiments in graphic form—including pull-out, three-dimensional inserts—and its non-chronological narrative, the novel earned numerous honors, among them the Guardian First Book Award, presented for the first time to a comic book.

For this volume Raeburn interviewed Chris Ware for many hours to make fascinating connections between Jimmy Corrigan's fictional life and the life of his creator. Raeburn discusses the scope of Ware's career, including his drawings for New City, the New Yorker, and his own comic book, The Acme Novelty Library. AsRaeburn shows, Ware's unique art form extends beyond the world of graphic novels into the broader worlds of literature, graphic art, and popular culture, and challenges traditional definitions of all three.
Praise For Chris Ware (Monographics)…
"With a new series called Mongraphics, Yale University Press offers a perfectly compact and affordable way to become more intimate with the superstars of contemporary graphics."—Glen Haelfand, CMYK-->


"A gorgeous monograph, crammed with reproductions of Ware's comics, paintings, and kinetic sculptures alongside examples of his influences and even evidence of his creative swipes from sources ranging from mid-1920s Sunday funnies and ragtime sheet music to African-American beauty-product labels."—Joshua Glenn, Boston Globe

Yale University Press, 9780300102918, 112pp.
Publication Date: October 11, 2004
About the Author
Daniel Raeburn self-publishes The Imp, an irregular series of booklets about comics. His writings have appeared in The Baffler and the Village Voice Literary Supplement. Rick Poyner is series editor of Monographics. He founded Eye, the international review of graphic design and was its editor from 1990 to 1997. His books include Typography Now: The Next Wave (1991), Typographica (2001), and No More Rules: Graphic Design and Postmodernism (Yale University Press, 2003).
or
Not Currently Available for Direct Purchase