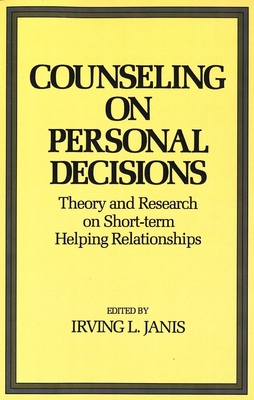 Counseling on Personal Decisions
Theory and Research on Short-Term Helping Relationships
Paperback

* Individual store prices may vary.
Description
This book is designed to assist counselors to be more effective in their relationship with clients who seek help in choosing and adhering to a difficult course of action. It presents a thoughtful theoretical analysis of the conditions that lead to successful short term counseling and then tests these hypotheses through a series of controlled field experiments carried out in a variety of counseling situations.

In his initial chapters, Irving Janis identifies three critical phases of activity for the counselor in a helping relationship: building an image as a reliable source of self esteem enhancement; endorsing certain norms (such as dieting) or recommending sound decision-making procedures; minimizing the client's separation reactions to the termination of direct contact. The main body of the book consists of field experiments conducted by Janis and his colleagues which assess the effects of numerous variations in counseling procedures. Field studies of weight reducing, smoke ending, and marital and career counseling are among those used for evaluation of counseling techniques. In the final chapters Janis draws together the empirical findings of the field experiments, revising some aspects of his theory in response to the complexities of the research results.

Written in a style that is lively and easily understood, Counseling on Personal Decisions provides a unique combination of theory, research, and applications. It is a valuable tool not only for counselors but for physicians, lawyers, social workers, and other professional advisors.
Yale University Press, 9780300105490, 420pp.
Publication Date: December 11, 1981