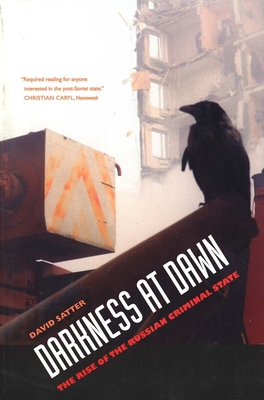 Darkness at Dawn
The Rise of the Russian Criminal State
Paperback

* Individual store prices may vary.
Description
Anticipating a new dawn of freedom after the disintegration of the Soviet Union, Russians could hardly have foreseen the reality of their future a decade later: a country impoverished and controlled at every level by organized crime. This riveting book views the 1990s reform period through the experiences of individual citizens, revealing the changes that have swept Russia and their effect on Russia's age-old ways of thinking.

"The Russia that Satter depicts in this brave, engaging book cannot be ignored. Darkness at Dawn should be required reading for anyone interested in the post-Soviet state."—Christian Caryl, Newsweek

"Satter must be commended for saying what a great many people only dare to think."—Matthew Brzezinski, Toronto Globe and Mail

"Humane and articulate."—Raymond Asquith, Spectator

"Vivid, impeccably researched and truly frightening. . . . Western policy-makers, especially in Washington, would do well to study these pages."—Martin Sieff, United Press International

Praise For Darkness at Dawn: The Rise of the Russian Criminal State…
"A stunning book that honestly confronts the continuingly difficult birth of post-Soviet Russia: dictatorship, economic collapse, and depopulation may still be in Russia's future and much depends on oil. Bravo to Satter—a clear, troubling, brave work."—Jim Woolsey, former CIA Director



"David Satter has written a compelling and provocative indictment of post-Soviet Russia. He grounds his stern judgment in years of his own reporting on real people's experiences, and he brings to the task he has set himself a powerful intellect. This book is a major contribution to the debate over what has happened in Russia—and why, and what it means."—Strobe Talbott, president, The Brookings Institution








Yale University Press, 9780300105919, 326pp.
Publication Date: September 10, 2004
About the Author
David Satter, former Moscow correspondent for the Financial Times of London, is affiliated with the Hoover Institution, the Hudson Institute, and the Johns Hopkins University Nitze School of Advanced International Studies (SAIS). He is the author of Age of Delirium: The Decline and Fall of the Soviet Union, also available from Yale University Press.


or
Not Currently Available for Direct Purchase