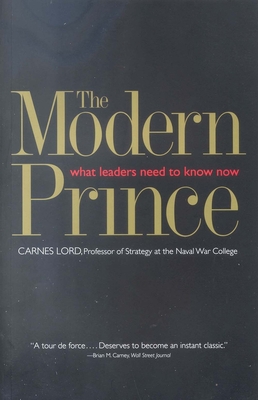 The Modern Prince
What Leaders Need to Know Now
Paperback

* Individual store prices may vary.
Description
A provocative treatise on the requirements of leadership in the modern world

The role of leaders is never more crucial than during times of war. The ability to inspire confidence and communicate resolution is essential to the national interest. The requirements of leadership are not limited to military affairs: citizens look to leaders to guide the economy, protect the laws, and safeguard national values. Leadership has never been simple, but it is even more complicated in the age of mass democracy: globalization, the power of the media, and the constraints of bureaucracy are among the many challenges facing leaders at the beginning of the twenty-first century.
What do leaders need to know in order to be effective? Carnes Lord—an eminent political scientist who has held a number of high-level positions in the United States government—here offers witty and trenchant counsel to both leaders and the citizens who elect them. Exploring such issues as leadership in war and crises, diplomacy, the use of secret intelligence, the role of political advisors, and the media, Lord enumerates the major challenges confronting modern leaders and offers practical advice on how leaders can deal with them effectively.
Praise For The Modern Prince: What Leaders Need to Know Now…
"This wonderful book covers everything you need to know about politics today—and don't learn from political science today. Modelled on Machiavelli's Prince and focused on America, it offers insights from Aristotle and takes examples from around the world. As counselor to his readers, Carnes Lord shows statesmen what they must think about and the rest of us how to assess them."—Harvey Mansfield, Harvard University


"The Modern Prince offers a bold and thoughtful exploration of the nature of political leadership and its relationship to contemporary democracy. The book reflects Carnes Lord's unusual combination of classical scholarship and his experience working with national leaders on the highest level. It should be read by actual and aspiring leaders, and the citizens who select them."—Nathan Tarcov, University of Chicago

Yale University Press, 9780300105957, 304pp.
Publication Date: August 11, 2004
About the Author
Carnes Lord is professor of strategy at the Naval War College. He served as director of international communications and information policy for the National Security Council under Ronald Reagan, and was assistant to the vice president for national security affairs in the Bush administration.