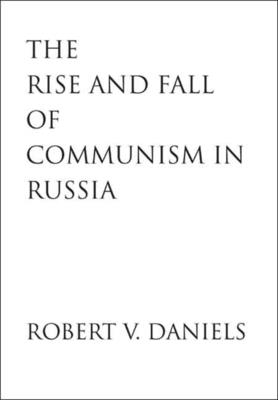 The Rise and Fall of Communism in Russia
Hardcover

* Individual store prices may vary.
Description
Distinguished historian of the Soviet period Robert V. Daniels offers a penetrating survey of the evolution of the Soviet system and its ideology. In a tightly woven series of analyses written during his career-long inquiry into the Soviet Union, Daniels explores the Soviet experience from Karl Marx to Boris Yeltsin and shows how key ideological notions were altered as Soviet history unfolded.
The book exposes a long history of American misunderstanding of the Soviet Union, leading up to the "grand surprise" of its collapse in 1991. Daniels's perspective is always original, and his assessments, some worked out years ago, are strikingly prescient in the light of post-1991 archival revelations. Soviet Communism evolved and decayed over the decades, Daniels argues, through a prolonged revolutionary process, combined with the challenges of modernization and the personal struggles between ideologues and power-grabbers.
Praise For The Rise and Fall of Communism in Russia…
"Daniels has been one of the liveliest and most original scholars in the Soviet field for many years. This book confirms that his productivity and alertness to new developments continue unabated."—Sheila Fitzpatrick, University of Chicago


— Sheila Fitzpatrick
"A marvelous chronicle of an intellectual at work over a lifetime of trying to understand the Soviet Union and, eventually, its downfall."—Mark von Hagen, Columbia University
— Mark von Hagen
"This collection makes available a half-century's worth of commentary, full of original formulations, by one of the more clear-headed observers of the Soviet Union and now Russia . . . at a time when a new mythology about this region of the world is achieving the status of orthodoxy."—David A. J. Macey, Middlebury College
— David A. J. Macey
Yale University Press, 9780300106497, 494pp.
Publication Date: April 4, 2007
About the Author
Robert V. Daniels is professor emeritus of history, University of Vermont. Among his many previous books are The Conscience of the Revolution: Communist Opposition in Soviet Russia and The End of the Communist Revolution. He lives in Burlington, VT.