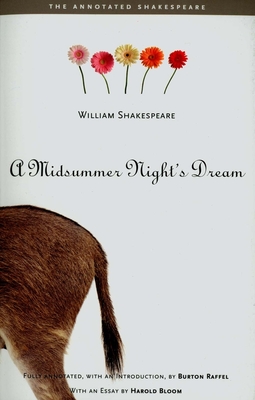 A Midsummer Night's Dream (The Annotated Shakespeare)
Paperback

* Individual store prices may vary.
Other Editions of This Title:
Paperback (12/2/2012)
Paperback (12/2/2012)
Paperback (12/2/2012)
Paperback (4/21/2019)
Paperback (9/3/2014)
Paperback (4/4/2010)
Paperback (2/1/2000)
Paperback (7/23/2018)
Paperback (2/12/2010)
Paperback (2/16/2016)
Paperback (5/22/2018)
Paperback (5/19/2015)
Paperback (5/9/2015)
Paperback (7/19/2018)
Paperback (6/15/2019)
Paperback (10/11/2012)
Paperback (5/13/2013)
Paperback (11/12/2005)
Paperback (7/28/2018)
Paperback, Large Print (8/14/2008)
Description
"Each volume of The Annotated Shakespeare proves to be a splendid addition to the series."—Tita French Baumlin, Southwest Missouri State University

From the hilarious mischief of the elf Puck to the rough humor of the self-centered Bottom and his fellow players, from the palace of Theseus in Athens to the magic wood where fairies play, Shakespeare's lyrical A Midsummer Night's Dream is a play of enchantment and an insightful portrait of the predicaments of love. This extensively annotated edition makes Midsummer completely accessible to readers in the twenty-first century and provides a rich resource for students, teachers, and the general reader. 

Burton Raffel's on-page annotations offer generous help with vocabulary and usage of Elizabethan English, pronunciation, prosody, and alternative readings of phrases and lines. In his introduction he explores the complexities of A Midsummer Night's Dream. And in a concluding essay, Harold Bloom examines the play's extraordinary mélange of characters. 
Yale University Press, 9780300106534, 224pp.
Publication Date: March 8, 2005
About the Author
Burton Raffel was Distinguished Professor Emeritus of Arts and Humanities and emeritus professor of English at the University of Louisiana at Lafayette. Among his many edited and translated publications are Poems and Prose from the Old English, Cligès, Lancelot, Perceval, Erec and Enide, and Yvain, all published by Yale University Press. Harold Bloom was Sterling Professor of the Humanities at Yale University and Berg Professor of English at New York University, and the author of many books, including The Western Canon and Shakespeare: The Invention of the Human.