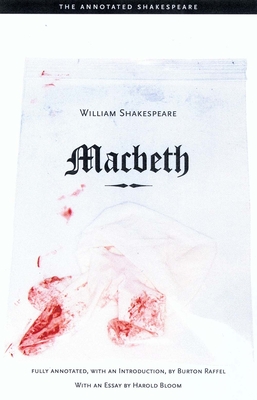 Macbeth (The Annotated Shakespeare) (Paperback)
Yale University Press, 9780300106541, 256pp.
Publication Date: March 8, 2005
Other Editions of This Title:
Paperback (3/1/2010)
Paperback (5/29/2010)
Paperback (4/20/2019)
Paperback (7/9/2019)
Paperback (1/23/2019)
Paperback (3/4/2009)
Paperback (5/29/2010)
Paperback (2/11/2009)
Paperback (7/17/2019)
Paperback (5/29/2010)
Paperback (11/14/2017)
Paperback (6/4/2019)
Paperback (5/20/2009)
Paperback (6/22/2017)
Paperback (5/2/2016)
Paperback (5/30/2019)
Hardcover (10/17/2018)
Hardcover (11/2/2015)
Paperback (11/13/2018)
* Individual store prices may vary.
Description
Perhaps no other Shakespearean drama so engulfs its readers in the ruinous journey of surrender to evil as does Macbeth. A timeless tragedy about the nature of ambition, conscience, and the human heart, the play holds a profound grip on the Western imagination.
About the Author
Burton Raffel was Distinguished Professor of Arts and Humanities Emeritus and professor of English emeritus, University of Louisiana at Lafayette. Among his many edited and translated publications are Poems and Prose from the Old English, Cligès, Lancelot, Perceval, Erec and Enide, and Yvain, all published by Yale University Press. Harold Bloom was Sterling Professor of Humanities at Yale University and Berg Professor of English at New York University, and was the author of many books,including The Western Canon, Shakespeare: The Invention of the Human, and Where Shall Wisdom Be Found?
Praise For Macbeth (The Annotated Shakespeare)…
"The polymathic scholar and translator Burton Raffel not only elucidates baffling terms but offers guidance on the prosody and declamation of Shakespeare's lines, often to subtle effect, which will be useful to actors as well as readers."—Eric Ormsby, New York Sun
Selected for Association of American University Presses (AAUP) Books for Public and Secondary School Libraries, 2006
Selected as a 2005 outstanding book by University Press Books for Public and Secondary School Libraries
Featured at ALA as one of the "Best of the Best from the University Presses: Books you should know about"