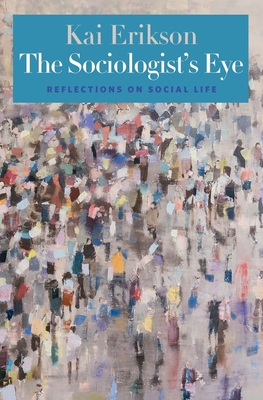 The Sociologist's Eye
Reflections on Social Life
Hardcover

* Individual store prices may vary.
Description
A masterful introduction to and appreciation of sociology as a window into our world

The culmination of a distinguished career, this fascinating exploration into the nature of human social life describes the field of sociology as a way of looking at the world rather than as a simple gathering of facts about it. Kai Erikson notes that sociologists look out at the same human scenes as poets, historians, economists, or any other observers of the vast social landscape spread out before them, but select different aspects of that vast panorama to focus on and attend to. Erikson's lively and accessible volume considers how sociology became a field of study, and how it has turned its attention over time to new areas of study such as race and gender and what Erikson calls "social speciation." This book provides readers with new ways of thinking about human culture and social life—an exhilarating sense of what the world looks like when viewed with a sociologist's eye.
Praise For The Sociologist's Eye: Reflections on Social Life…
"A man who has devoted his life to studying society delivers a final report on everything he has learned . . . [Erikson] proves to be a wise guide to a broad field of study. A useful, illuminating analysis."—Kirkus Reviews

"The accumulated wisdom of an eminent scholar . . . an engaging read . . . a valuable contribution to, as well as a meta-analysis of, sociology."—R. P. Lorenzo, Choice

"Rendered in precise, elegant prose . . . Unusually thoughtful, precise, and occasionally profound."—Howard S. Becker, Contemporary Sociology

"With rich detail, intellectual deft, and an extraordinary gift for storytelling, Erikson delivers a tour de force. It is stimulating, eloquent, comprehensive, yet accessible. A must read for every young scholar."—Cecilia Menjívar, University of Kansas

"Expertly executed and highly engaging, The Sociologist's Eye renders the complex history of our discipline more clearly and elegantly than any other book of its kind."—Jennifer Johnson, Kenyon College

"The Sociologist's Eye is an immediate classic in the company of Berger and Mills; Erikson's elegant analysis within the framework of perspectives, places, and processes will captivate generations to come."—Diane L. Pike, Augsburg College 

"Erikson is a master of two sociological arts, gracefully guiding his readers through a global landscape to help us understand human beings and the myriad ways we live together. A beautiful book."—Daniel F. Chambliss, Hamilton College

"More than a text for students, this is an overview of what sociology has to teach anyone. It is a joy to see good ideas and critical findings come alive in Erikson's uniquely masterful renditions."—Harvey Molotch, New York University


Yale University Press, 9780300106671, 432pp.
Publication Date: August 22, 2017
About the Author
Kai Erikson is William R. Kenan Jr. Professor Emeritus of Sociology and American Studies, Yale University. He is former President of the American Sociological Association, and has twice won the ASA award for writing the best book published in the year preceding.
or
Not Currently Available for Direct Purchase