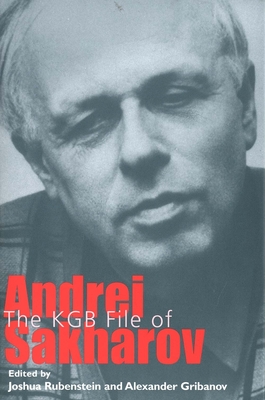 The KGB File of Andrei Sakharov (Annals of Communism Series)
Hardcover

* Individual store prices may vary.
Description
Andrei Sakharov (1921–1989), a brilliant physicist and the principal designer of the Soviet hydrogen bomb, later became a human rights activist and—as a result—a source of profound irritation to the Kremlin. This book publishes for the first time ever KGB files on Sakharov that became available during Boris Yeltsin's presidency. The documents reveal the untold story of KGB surveillance of Sakharov from 1968 until his death in 1989 and of the regime's efforts to intimidate and silence him. The disturbing archival materials show the KGB to have had a profound lack of understanding of the spiritual and moral nature of the human rights movement and of Sakharov's role as one of its leading figures.

Praise For The KGB File of Andrei Sakharov (Annals of Communism Series)…
"A fascinating, illuminating book, a treasure trove of information on the development of Sakharov's views and of the 'dissident movement' in the Soviet Union and Eastern Europe."—Jeane J. Kirkpatrick, Senior Fellow, American Enterprise Institute.
— Jeane J. Kirkpatrick
"It is fascinating and inspiring to read these documents and witness how the Soviet security apparatus with all its spies and bugging devices was unable to break the will of one indomitably courageous man."—Richard Pipes, Baird Professor of History, Emeritus, Harvard University
— Richard Pipes
"Sheds fascinating light on the working of the Soviet system at the highest level—its policy towards the intelligentsia and the dissidents."—Walter Laqueur
— Walter Laqueur
Yale University Press, 9780300106817, 448pp.
Publication Date: July 10, 2005
About the Author
Joshua Rubenstein is northeast regional director of Amnesty International USA and a longtime associate at Harvard University's Davis Center for Russian and Eurasian Studies. Alexander Gribanov is a literary scholar and archivist. He was the literary editor of the Chronicle of Current Events in Moscow, and arranged and processed the papers of Andrei Sakharov at Brandeis University.