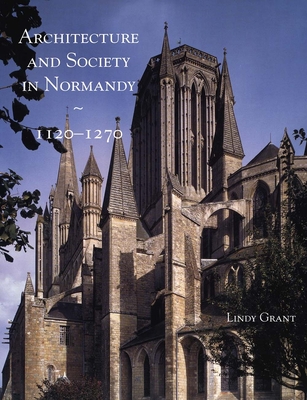 Architecture and Society in Normandy, 1120-1270 (Hardcover)
Yale University Press, 9780300106862, 284pp.
Publication Date: June 10, 2005
* Individual store prices may vary.
Description
This wide-ranging book explores the architecture—principally ecclesiastical—of Normandy from 1120 to 1270, a period of profound social, cultural, and political change. In 1204, control of the duchy of Normandy passed from the hands of the Anglo-Norman/Angevin descendants of William the Conqueror to the Capetian kingdom of France. The book examines the enormous cultural impact of this political change and places the architecture of the time in the context of the Normans' complicated sense of their own identity. It is the first book to consider the inception and development of gothic architecture in Normandy and the first to establish a reliable chronology of buildings.
 
Lindy Grant extends her investigation beyond the buildings themselves and also offers an account of those who commissioned, built, and used them. The humanized story she tells provides sharp insights not only into Normandy's medieval architecture, but also into the fascinating society from which it emerged.
About the Author
Lindy Grant is medieval curator at the Conway Library, the Courtauld Institute, University of London.

Praise For Architecture and Society in Normandy, 1120-1270…
"Grant has assembled a remarkable wealth of material, proposed a number of important re-datings of important monuments, and set out a web of connections and interrelations that are deeply interesting—all set into a richly textured account in which patrons played an active role."—Caroline Bruzelius, author of The Stones of Naples: Church Building in the Angevin Kingdom
— Caroline Bruzelius
"This distinguished book provides a new way of understanding an important period. Nothing remotely similar in range or quality can be found on the subject in English or any other language."—Peter Fergusson, Wellesley College
— Peter Fergusson
or
Not Currently Available for Direct Purchase