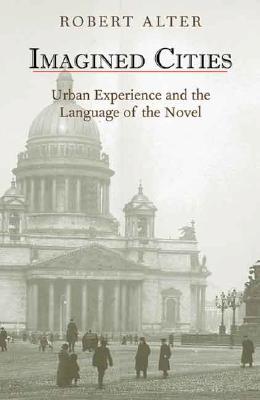 Imagined Cities (Hardcover)
Urban Experience and the Language of the Novel
Yale University Press, 9780300108026, 208pp.
Publication Date: May 1, 2005
Other Editions of This Title:
Paperback (12/10/2010)
* Individual store prices may vary.
Description
In "Imagined Cities," " "Robert Alter traces the arc of literary development triggered by the runaway growth of urban centers from the early nineteenth century through the first two decades of the twentieth. As new technologies and arrangements of public and private space changed the ways people experienced time and space, the urban panorama became less coherenta metropolis defying traditional representation and definition, a vast jumble of shifting fragments and glimpsesand writers were compelled to create new methods for conveying the experience of the city.In a series of subtle and convincing interpretations of novels by Flaubert, Dickens, Bely, Woolf, Joyce, and Kafka, Alter reveals the ways the city entered the literary imagination. He shows how writers of diverse imaginative temperaments developed innovative techniques to represent shifts in modern consciousness. Writers sought more than a journalistic representation of city living, he argues, and to convey meaningfully the reality of the metropolis, the city had to be re-created or reimagined. His book probes the literary response to changing realities of the period and contributes significantly to our understanding of the history of the Western imagination.
About the Author
Robert Alter is the Class of 1937 Professor of Hebrew and Comparative Literature at the University of California, Berkeley. He has published widely on the modern European and American novel, on modern Hebrew literature, and on literary aspects of the Bible. He is the author of "Canon and Creativity: Modern Writing and the Authority of Scripture," published by Yale University Press.
Praise For Imagined Cities: Urban Experience and the Language of the Novel…
"The topic of the city remains one of the most enduring and important ones for literary study. Robert Alter's Imagined Cities makes a fresh and always interesting contribution to this topic."—Philip Fisher, Harvard University


"Those who think Mumford and LeCorbusier are our great urban visionaries have another think coming. As Robert Alter's Imagined Cities demonstrates so compellingly, the great 19th century novelists—Flaubert, Dickens, Joyce—saw and imagined our cities with a brilliance few others can approach."—Douglas Rae, author of City: Urbanism and its End

-Douglas Rae

"The topic of the city remains one of the most enduring and important ones for literary study. Robert Alter's Imagined Cities makes a fresh and always interesting contribution to this topic."—Philip Fisher, Harvard University




-Philip Fisher
or
Not Currently Available for Direct Purchase