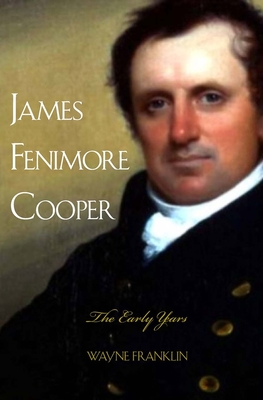 James Fenimore Cooper (Hardcover)
The Early Years
Yale University Press, 9780300108057, 752pp.
Publication Date: June 19, 2007
* Individual store prices may vary.
Description
The authoritative biography of James Fenimore Cooper, author of the Leather-Stocking Tales and representative figure of the early American republic

James Fenimore Cooper (1789–1851) invented the key forms of American fiction—the Western, the sea tale, the Revolutionary War romance. Furthermore, Cooper turned novel writing from a polite diversion into a paying career. He influenced Herman Melville, Richard Henry Dana, Jr., Francis Parkman, and even Mark Twain—who felt the need to flagellate Cooper for his "literary offenses." His novels mark the starting point for any history of our environmental conscience. Far from complicit in the cleansings of Native Americans that characterized the era, Cooper's fictions traced native losses to their economic sources. Perhaps no other American writer stands in greater need of a major reevaluation than Cooper. This is the first treatment of Cooper's life to be based on full access to his family papers. Cooper's life, as Franklin relates it, is the story of how, in literature and countless other endeavors, Americans in his period sought to solidify their political and cultural economic independence from Britain and, as the Revolutionary generation died, stipulate what the maturing republic was to become. The first of two volumes, James Fenimore Cooper: The Early Years covers Cooper's life from his boyhood up to 1826, when, at the age of thirty-six, he left with his wife and five children for Europe.
About the Author
American author James Fenimore Cooper (1789–1851) has been credited with inventing and popularizing a wide variety of genre fiction, including the Western, the spy novel, the high seas adventure tale, and the Revolutionary War romance. America's first crusading novelist, Cooper reminds us that literature is not a cloistered art; rather, it ought to be intimately engaged with the world.  
 
Praise For James Fenimore Cooper: The Early Years…
"Wayne Franklin single-handedly restores Cooper to his rightful place in American literature. . . . A towering achievement."—H. Daniel Peck, author of Thoreau's Morning Work
— H. Daniel Peck
"No one has ever written a biography of Cooper that answers as many questions, raises as many important historical issues, or provides as much detail of the life of Cooper and his family or of much of New York history in the late eighteenth century or the first half of the nineteenth century. The publication of Franklin's biography is a major event."—Jeffrey Walker, Oklahoma State University
— Jeffrey Walker
"A remarkable feat of scholarship and literary imagining. . . . Franklin's book is meticulously researched and wonderfully comprehensive. A biography of this subtlety of depth has been well worth waiting for."—Hugh Egan, Register of the Kentucky Historical Society
— Hugh Egan
"The biography is an engaging, well written account of an important time, place, and career in American literary history. It surprises, informs, and challenges the reader, and should be on the reading list of any early or nineteenth-century Americanist."—Rocky Mountain Review
— Rocky Mountain Review
or
Not Currently Available for Direct Purchase