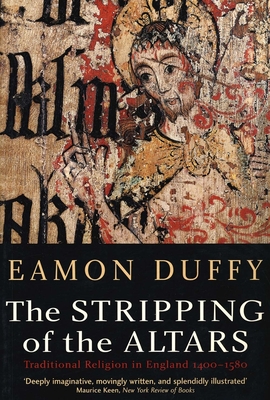 The Stripping of the Altars
Traditional Religion in England, 1400–1580
Paperback

* Individual store prices may vary.
Other Editions of This Title:
Digital Audiobook (2/27/2023)
Description
This prize-winning account of the pre-Reformation church recreates lay people's experience of religion in fifteenth-century England. Eamon Duffy shows that late medieval Catholicism was neither decadent nor decayed, but was a strong and vigorous tradition, and that the Reformation represented a violent rupture from a popular and theologically respectable religious system. For this edition, Duffy has written a new Preface reflecting on recent developments in our understanding of the period.
From reviews of the first edition:
"A magnificent scholarly achievement [and] a compelling read."—Patricia Morrison, Financial Times
"Deeply imaginative, movingly written, and splendidly illustrated. . . . Duffy's analysis . . . carries conviction."—Maurice Keen, New York Review of Books
"This book will afford enjoyment and enlightenment to layman and specialist alike."—Peter Heath, Times Literary Supplement
"[An] astonishing and magnificent piece of work."—Edward T. Oakes, Commonweal
Praise For The Stripping of the Altars: Traditional Religion in England, 1400–1580…
"This book will afford enjoyment and enlightenment to layman and specialist alike. Duffy sweeps the reader along through its six hundred pages by a style which eschews both jargon and pedantry, by his lively and absorbing detail, his piercing insights, patient analysis, and his vigor in debate."—Peter Heath, Times Literary Supplement

"With the publication of this book, a kind of map or illustrated atlas of late medieval English Christianity, English Reformation studies will never be the same again."—Patrick Collinson, Times Higher Education Supplement

"A magnificent scholarly achievement, a compelling read, and not a page too long to defend a thesis which will provoke passionate debate."—Patricia Morison, Financial Times

"Sensitively written and beautifully produced, this book represents a major contribution to the Reformation debate."—Norman Tanner, Times
"Unfailingly temperate, judicious, and scholarly. . . . [The book] has a fascinating story to tell."—James Bowman, Sunday Telegraph
"The first serious attempt by a historian to restore Mary's reputation in more than four hundred years."—Simon Denison, Sunday Telegraph
"[This book] at last gives the culture of the late Middle Ages in England its due, and helps us to see the period as it was and not as Protestant reformers and their intellectual descendants imagined it to be. . . . A monumental and deeply felt work."—Gabriel Josipovici, Times Literary Supplement
"This is a remarkable and significant work of historical 'revision,' which cannot be dismissed as a product of nostalgic longing for a Catholic past."—Anne Murphy SHCJ, John Pridmore, The Way
"A work of massive learning. . . . bound to provoke debate."—A.K. McHardy, History

"[A] vigorous and eloquent book, a work of daring revision and a masterpiece of the historical imagination. . . . At once meticulous and lush. . . . A wholly compelling book, this will appeal to any reader who wants to enter and understand another world."—Benjamin Schwarz, Atlantic Monthly
"Revisionist history at its most imaginative and exciting. . . . [An] astonishing and magnificent piece of work."—Edward T. Oakes, Commonweal

"A valuable source of information supported with excellent illustrations and bibliography."—Choice

"The importance of this book is that it affords opportunity to look broadly and comprehensively at the religious life of women and men before and after the separation from the Roman obedience and so take the measure of that life that in the continuum of English church history it can be noted and honored."—David Siegenthaler, Anglican Theological Review

"Deeply imaginative, movingly written, and splendidly illustrated."—Maurice Keen, New York Review of Books

"A landmark book in the history of the Reformation."—Ann Eljenholm Nichols, Sixteenth Century Journal

"A moving elegy for the pre-Reformation Church, full of evocative detail."—Thomas Cocke, Churchscape

"This is a monumental work. . . Duffy writes elegantly, handling complex and controversial subject matter in a way at once sober and factual. . . . A powerful book, superbly constructed and written, timely and often moving. It should be read by every historian of the medieval and early modern periods, by every Catholic, indeed by every Christian with a serious interest in the history of Christendom."—Evelyn Birge Vitz, Theological Studies

"Scholars wishing to examine the causes of and the reasons for the success of the English Reformation will have to grapple with Duffy's comprehensive, sympathetic, and convincing portrayal of 'traditional religion.'"—Joel Berlatsky, Albion
"Duffy [marshals] an impressive array of the latest local research . . . [and] demands of this body of information an interpretation which is sensible and balanced. . . . Duffy has produced a masterpiece of historical investigation and evaluation and this book must be read by any serious student of the English Reformation."—John Vidmar, o.p., The Thomist

"Duffy presents the most richly detailed picture of the faith we possess. . . . Even the most skeptical reader will come away with a new sense of the complex religious heritage lost in the course of the sixteenth century."—Paul Seaver, Religious Studies Review

"A very important book. Doctor Duffy . . . has transformed the study of late medieval religion in England and has enormously buttressed the revisionists' view of the Reformation. . . . I know of no other description of medieval parish life so comprehensive in scope and so vivid in detail. It is a compelling and persuasive description that portrays the devotional life of the faithful not in terms of decay and nascent Protestantism, but in terms of rich, variegated religious practice."—Donald Logan, Canadian Catholic Review
"This is a work of exceptional importance, demonstrating massive erudition, great sympathy, and eloquence of style. It presents a marvelously detailed new picture of traditional religious belief and practice in England during the century prior to the Reformation and it shows exactly when and how the customs of faith and ceremony were stripped away in the sixteenth century. Our interpretation of the Reformation and our understanding of Tudor religion will never be the same."—Stanford Lehmberg, Sixteenth Century Journal

"Detailed and compelling. . . . [Duffy] has made a major contribution to the debate on the English Reformation with a book that will be discussed by historians for years to come."—Reverend Thomas J. Shelley, Church

"Excellent in its deployment of historical material and wise in its analysis of that material. . . . This book should be required reading for all students of theology and divinity."—Jon Davies, Religion

"An important work for the light it sheds on late medieval English religion, and for the breadth and depth of his description of that religion. His discussion of liturgical . . . deepens our understanding of late medieval piety."—D. Jonothan Grieser, Sewanee Theological Review

Winner of the Longman-
History Today
Bookof the Year Award
Yale University Press, 9780300108286, 700pp.
Publication Date: May 10, 2005
About the Author
Eamon Duffy is Professor of the History of Christianity at the University of Cambridge and President of Magdalene College. He is the author of Saints and Sinners: A History of the Popes and The Voices of Morebath: Reformation and Rebellion in an English Village, both available in paperback from Yale University Press.
or
Not Currently Available for Direct Purchase