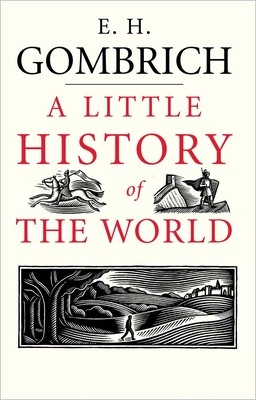 A Little History of the World (Little Histories) (Hardcover)
Yale University Press, 9780300108835, 304pp.
Publication Date: October 13, 2005
Other Editions of This Title:
Paperback (10/7/2008)
Paperback (10/22/2013)
Compact Disc (6/1/2006)
Hardcover (11/1/2011)
Pre-Recorded Audio Player (12/15/2008)
Compact Disc (6/1/2006)
MP3 CD (6/1/2006)
Audio Cassette (6/1/2006)
Audio Cassette (6/1/2006)
* Individual store prices may vary.
Description
The international bestseller available in English for the first time: E. H. Gombrich's world history for the curious of all ages...

E. H. Gombrich's bestselling history of the world for young readers tells the story of mankind from the Stone Age to the atomic bomb, focusing not on small detail but on the sweep of human experience, the extent of human achievement, and the depth of its frailty. The product of a generous and humane sensibility, this timeless account makes intelligible the full span of human history. In forty concise chapters, Gombrich tells the story of man from the stone age to the atomic bomb. In between emerges a colorful picture of wars and conquests, grand works of art, and the spread and limitations of science. This is a text dominated not by dates and facts, but by the sweep of mankind's experience across the centuries, a guide to humanity's achievements and an acute witness to its frailties. 
About the Author
Among E. H. Gombrich's many writings are the international bestsellers The Story of Art and Art and Illusion. He was director of the Warburg Institute of the University of London from 1959 to 1976.
Praise For A Little History of the World (Little Histories)…
"A remarkable book, written in an amiable, conversational style, effortlessly explaining, without condescension, difficult matters like the achievements of Charlemagne, the monetary system of medieval Europe and the ideas of the Enlightenment. . . . This resurrected history deserves reading for all its delights."—Edward Rothstein, New York Times
"In simple, vivid prose, Gombrich surveys the human past from pre-history to his own time. . . . Lucky children will have this book read to them. Intelligent adults will read it for themselves and regain contact with the spirit of European humanism at its best."—Anthony Grafton, Wall Street Journal
"The book is intellectually valuable, and unusual; rather than breaking history into eras or artificial categories. . . . Gombrich contextualizes them all and gives the vast unfolding of the Western world one wise, simple narrative. . . . For adults, it is full of delightful reminders as well as forgotten or never-known tidbits. As for younger readers . . . [the book] is a treasure for them."—Katie Haegele, Philadelphia Inquirer
"His enthusiasm for his subject is irresistible. . . . With Gombrich's Little History, at last available in English, there will be many generations of future historians who will attribute to it their lifelong passion for history - and for truth."—Lisa Jardine, Times
"This is an unusual work for Yale: a children's history originally published 70 years ago. But it is a work one can quickly come to love. . . . Using vivid imagery, storytelling and sly humor, [Gombrich] brings history to life in a way that adults as well as children can appreciate. The book displays a breadth of knowledge."—Publishers Weekly (starred review)
"The true fairy tale of the evolution of mankind."—Die Zeit
"This is the first English translation of a book written in 1935 in German and translated into 18 languages. Thirty years later, a second German edition was published with a new final chapter. In 40 brief chapters, Gombrich relates the history of humankind from the Stone Age through World War II. In between are historic accounts of such topics as cave people and their inventions (including speech), ancient life along the Nile and in Mesopotamia and Greece, the growth of religion, the Dark Ages, the age of chivalry, the New World, and the Thirty Years' War. Much of this history is told through concise sketches of such figures as Confucius, Alexander the Great, Hannibal, Jesus Christ, Charlemagne, Leonardo da Vinci, Napoleon, and Columbus. Gombrich was asked to write a history geared to younger readers, so the book is filled with innumerable dates and facts, yet it is one to be read by adults. With 41 black-and-white woodcut illustrations and nine maps, it is a timeless and engaging narrative of the human race."—Booklist
"A masterpiece of nonfiction writing for children. It is a wry and charming book, perfectly suited to the capacities of a 10-year-old, but also remarkably free of condescension. An adult can read it with pleasure. And, indeed, with instruction."—Scott McLemee, Newsday
"[A] lively and involving history. . . . Superbly designed and freshly illustrated, this is a book to be savored and collected. . . . This is a text dominated not by dates and facts, but by the sweep of mankind's experience across the centuries, a guide to humanity's achievements and an acute witness to its frailties. The product of a generous and humane sensibility, this timeless account makes intelligible the full span of human history."—Artdaily
"Charmingly illustrated with woodcuts and beautifully produced."—Bookseller

"A timeless and engaging narrative of the human race."—Choice
"The author's voice is conversational, and Gombrich brings clarity to broad movements in history while focusing on rich real-life characters. You'll be reaching for it to help your children with their history assignments when traditional textbooks leave them confused and overwhelmed."—Fort WorthStar-Telegram
"To round out our word feast for young minds, we've picked a nonfiction work called A Little History of the World, a 300-page tome that has been wildly popular across the globe since it was first published in 1935 but has just been translated into English. . . . [An] excellent choice for out-loud family reading."—Catherine Mallette, Fort WorthStar-Telegram
"Imagine Goethe giving up the role of sage long enough to become a children's author and you will have a reasonably good idea of the book's content . . . As for the style . . . well, that is something even more remarkable. The tone is wry, at times, without ever being jokey—a kind of light seriousness that is very respectful of its young audience . . . Gombrich commanded a really humbling degree of erudition, but always with a certain generosity towards his audience. That combination is very much in evidence throughout."—Scott McLemee, Inside Higher Ed
"A lovely, lively historical survey that takes in Neanderthals, Hohenzollerns and just about everything in between . . . Conversational, sometimes playful . . . A fine conception and summarizing of the world's checkered past for young and old."—Kirkus Reviews (starred review)
Featured in the 2006 Association of American University Presses (AAUP) University Press Books for Public and Secondary School Libraries
Named a Favorite Book of 2005 by the Los Angeles Times
A 2006 Book Sense Highlight
E.H. Gombrich was awarded the 1985 International Balzan Foundation Prize
"A brilliant piece of narrative, splendidly organised, told with an energy and confidence that are enormously attractive, and suffused with all the humanity and generosity of spirit that Gombrich's thousands of admirers came to cherish during his long and richly productive life. It's a wonderful surprise: irresistible, in fact."—Philip Pullman
"Imagine the full story of human habitation on our planet being told in such flowing prose that you want to read it out loud. If you can't imagine that, read A Little History of the World and experience it!"—Patricia S. Schroeder, President and CEO of the Association of American Publishers and Former U.S. Representative from Colorado