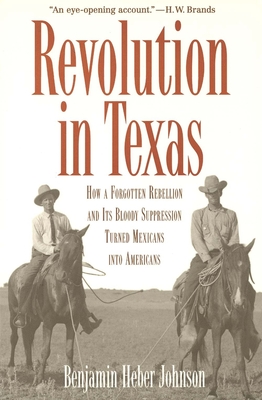 Revolution in Texas
How a Forgotten Rebellion and Its Bloody Suppression Turned Mexicans into Americans (The Lamar Series in Western History)
Paperback

* Individual store prices may vary.
Description
A gripping narrative about a dramatic episode in the history of the American West—and a major contribution to our understanding of the origins of Mexican American identity

In Revolution in Texas Benjamin Johnson tells the little-known story of one of the most intense and protracted episodes of racial violence in United States history. In 1915, against the backdrop of the Mexican Revolution, the uprising that would become known as the Plan de San Diego began with a series of raids by ethnic Mexicans on ranches and railroads. Local violence quickly erupted into a regional rebellion. In response, vigilante groups and the Texas Rangers staged an even bloodier counterinsurgency, culminating in forcible relocations and mass executions.

Faced with the overwhelming forces arrayed against it, the uprising eventually collapsed. But, as Johnson demonstrates, the rebellion resonated for decades in American history. Convinced of the futility of using force to protect themselves against racial discrimination and economic oppression, many Mexican Americans elected to seek protection as American citizens with equal access to rights and protections under the U.S. Constitution.
Praise For Revolution in Texas: How a Forgotten Rebellion and Its Bloody Suppression Turned Mexicans into Americans (The Lamar Series in Western History)…
"An enlightening examination of a startling item of forgotten American history. . . . In deciding Mexican American political identity, in determining Texas race relations and perhaps even in the establishment of the government of Mexico, the important role of the Plan de San Diego is supported by evidence Johnson gathered on both sides of the border. . . . Deep, detailed and authentic."—Mark Henricks,
San Francisco Chronicle
"Johnson has written an important book, one that deserves the attention of those interested in the history of the United States, Chicanos, and the Texas-Mexico borderlands."—James A. Sandos,
American Historical Review
"[A] timely study. . . . Highly recommended."—
Choice
"This book is based on solid research in primary sources and represents the pleasing product of an historiographical viewpoint that allows each side to tell its own story. . . . The narrative of the volume is well written and very engaging. This volume represents a major, important addition to the history of Texas and of its diverse peoples."—Victoria Hennessey Cummins,
H-Net Review
"Fascinating, compelling, and sure to provoke debate and discussion for years to come. . . . A brilliant narrative. . . . This is a near-perfect monograph: well-written, insightful, and full of controversial arguments that, while well-supported with evidence, open up points of discussion and avenues for future research. It should be required reading for graduate students in American history. I can and will assign this book to my undergraduates in the future."—William D. Carrigan,
H-Net Reviews
"The 1915 Plan de San Diego rebellion in south Texas has remained a footnote to U.S. national history. This book will change that. . . . This crucial episode in the making of Mexican American identity deserves the attention and careful analysis that Johnson provides."—Elliott Young,
Journal of Southern History
"Carefully documents what has been a whitewashed version of South Texas history."—Jan Jarbor Russell,
San Antonio Express-News
"Johnson's compelling narrative . . . [recalls] the legacy of this often overlooked violent episode . . . with admirable skill."—William J. Scheick,
The Dallas Morning News
"Revolution in Texas is no less important for its contributions to the nascent discipline of Borderlands history. Johnson's book serves as a very model for the field. . . . [This book] should join the handful of indispensable monographs about Texas, and find an even wider audience among those interested in Mexico, the greater Southwest, and the politics of race in modern America."—Andrew R. Graybill, Western Historical Quarterly
Finalist for the 2004 Caroline Bancroft Western History Prize sponsored by the Denver Public Library
"Johnson reveals the fascinating South Texas border region in all of its dizzying complexity."—Gregg Cantrell, author of
Stephen F. Austin
"Far more than just an account of a failed revolution, this book paints a vivid and fascinating portrait of a region in turmoil."—Gregg Cantrell, author of
Stephen F. Austin
"An eye-opening account of a time when the Mexican Revolution came to the United States, when conflicting ethnic and national loyalties produced ghastly violence, deep bitterness, and a happier ending than anyone involved could have hoped for."—H.W. Brands, author of
The Age of Gold: The California Gold Rush and the New American Dream
"Benjamin Johnson's study of the Plan de San Diego uprising is a clear, absorbing analysis of a bloody but little-known revolt along a border that's been troubled ever since it was a border. By looking both backward and forward from the Plan de San Diego, the book does much to explain why Mexican-American identity is the complex fate we know it to be today."—Larry McMurtry
"The Plan de San Diego of 1915 played a major but little remembered part in the turmoil created by the Mexican Revolution in South Texas, perhaps because of the dark stain it left on both Anglo Texans and Mexican Texans. Ben Johnson's exhaustively researched book places the story in its larger context, assesses its significance, and tells it in readable prose."—Robert M. Utley, author of
Lone Star Justice: The First Century of the Texas Rangers
Yale University Press, 9780300109702, 272pp.
Publication Date: August 29, 2005
About the Author
Benjamin Heber Johnson is assistant professor of history at Southern Methodist University.
or
Not Currently Available for Direct Purchase