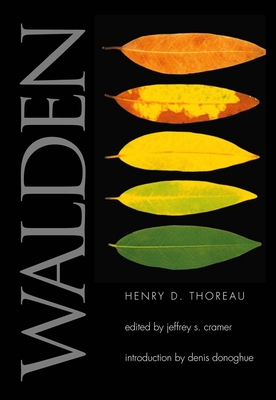 Walden (Paperback)
Yale University Press, 9780300110081, 464pp.
Publication Date: May 11, 2006
Other Editions of This Title:
Paperback (11/9/2011)
Paperback (7/13/2019)
Paperback (9/6/2018)
Paperback (11/22/2018)
Paperback (4/30/2008)
Paperback (1/27/2019)
Paperback (7/13/2019)
Paperback (12/11/2018)
Paperback (3/1/2019)
Paperback (10/25/2005)
Paperback (10/22/2016)
Paperback (5/14/2017)
Paperback (5/4/2019)
Paperback (8/11/2018)
* Individual store prices may vary.
Description
This handsome, affordable paperback edition of Walden is the most authoritative version of Henry David Thoreau's classic American literarymasterpiece to date. Jeffrey Cramer's newly edited text is based on the original 1854 edition of Walden, with emendations taken from Thoreau's draft manuscripts, his own markings on page proofs, and notes in his personal copy of the book. An elegantly produced paperback, it has been priced especially with the student market in mind. An introduction by Denis Donoghue places Thoreau's life and achievement in context. Also included here are notes on the text, an afterword by the editor, and a helpful selected bibliography.


About the Author
Jeffrey S. Cramer is curator of collections, The Thoreau Institute at Walden Woods. He is editor of Walden: A Fully Annotated Edition. He is preparing for publication What I Lived For: The Annotated Selected Journals of Henry D. Thoreau.


Praise For Walden…
Received rating of "Outstanding" from 2007 University Press Books Committee
"Thoreau's masterpiece—here freshly refurbished by Jeffrey S. Cramer—speaks to our material and spiritual condition as powerfully as on the day it first appeared.  Now, more than ever, Walden is our indispensable American book."—Alan D. Hodder, professor of comparative religion, Hampshire College
"Jeffrey Cramer's Walden is the most accurate and readable text of Thoreau's masterpiece. Cramer's version now replaces all other available editions of Walden as the most attractive and reliable way to approach this great American book."—Joel Porte, author of Consciousness and Culture: Emerson and Thoreau Reviewed