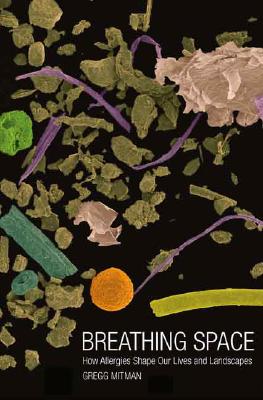 Breathing Space
How Allergies Shape Our Lives and Landscapes
Hardcover

* Individual store prices may vary.
Other Editions of This Title:
Paperback (8/5/2008)
Description
Allergy is the sixth leading cause of chronic illness in the United States. More than fifty million Americans suffer from allergies, and they spend an estimated $18 billion coping with them. Yet despite advances in biomedicine and enormous investment in research over the past fifty years, the burden of allergic disease continues to grow. Why have we failed to reverse this trend?"
""Breathing Space "offers an intimate portrait of how allergic disease has shaped American culture, landscape, and life. Drawing on environmental, medical, and cultural history and the life stories of people, plants, and insects, Mitman traces how America's changing environment from the late 1800s to the present day has led to the epidemic growth of allergic disease. We have seen a never-ending stream of solutions to combat allergies, from hay fever resorts, herbicides, and air-conditioned homes to numerous potions and pills. But, as Mitman shows, despite the quest for a magic bullet, none of the attempted solutions has succeeded. Until we address how our changing environmentphysical, biological, social, and economichas helped to create America's allergic landscape, that hoped-for success will continue to elude us.
Praise For Breathing Space: How Allergies Shape Our Lives and Landscapes…
"This is a pioneering text."—Robert Fisher, University of Connecticut
-Robert Fisher

"Mitman has a knack for identifying subjects that link the cultural and scientific. He presents asthma as a kind of indicator or sampling device for ideas about nature and society. Intriguing."—Charles E. Rosenberg, Harvard University
-Charles E. Rosenberg

"This nuanced exploration of allergy and asthma elegantly combines environmental history, history of science, and history of medicine. Mitman charts important new territory."—John Harley Warner, Yale University School of Medicine
-John Harley Warner

"This book makes a strikingly original contribution to social, environmental, and medical history. Mitman challenges Americans to rethink environmental, medical, and public health policies."—Gerald Markowitz, CUNY
-Gerald Markowitz

"Gregg Mitman's Breathing Space offers a critically important analysis of the emergence of allergies as strikingly common and increasingly serious health maladies. But it does much more: by systematically linking environmental and medical history, Mitman offers a powerful argument against biomedical reductionism. In this pathbreaking book, he vividly shows how our bodies, our environment, and our health are indivisible."—Allan M. Brandt, Kass Professor of the History of Medicine, Harvard University

-Allan M. Brandt

"Mitman''s book is very well organized and provides a provocative and interesting read on the links between environment and health. . . . Mitman weaves an important history that demonstrates the pivotal role of place in understanding and preventing allergies. . . . [A] must read . . ."—Kathi Wilson, Annals of the Association of American Geographers and The Professional Geographer
-Kathi Wilson
Yale University Press, 9780300110357, 336pp.
Publication Date: May 1, 2007
About the Author
Gregg Mitman is William Coleman Professor of the History of Science and professor of medical history and science and technology studies, University of WisconsinMadison. He is the author of two award-winning books and many journal and scholarly articles on history of science topics. He lives in Madison."
or
Not Currently Available for Direct Purchase