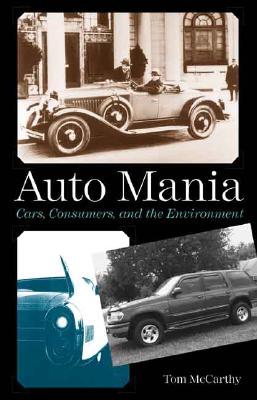 Auto Mania
Cars, Consumers, and the Environment
Hardcover

* Individual store prices may vary.
Other Editions of This Title:
Paperback (10/27/2009)
Description
The twentieth-century American experience with the automobile has much to tell us about the relationship between consumer capitalism and the environment, Tom McCarthy contends. In "Auto Mania" he presents the first environmental history of the automobile that shows how consumer desire (and manufacturer decisions) created impacts across the product lifecyclefrom raw material extraction to manufacturing to consumer use to disposal.From the provocative public antics of young millionaires who owned the first cars early in the twentieth century to the SUV craze of the 1990s, "Auto Mania" explores developments that touched the environment. Along the way McCarthy examines how Henry Ford's fetish for waste reduction tempered the environmental impacts of Model T mass production; how Elvis Presley's widely shared postwar desire for Cadillacs made matters worse; how the 1970s energy crisis hurt small cars; and why baby boomers ignored worries about global warming.McCarthy shows that problems were recognized early. The difficulty was addressing them, a matter less of doing scientific research and educating the public than implementing solutions through America's market economy and democratic government. Consumer and producer interests have rarely aligned in helpful ways, and automakers and consumers have made powerful opponents of regulation. The result has been a mixed record of environmental reform with troubling prospects for the future.
Praise For Auto Mania: Cars, Consumers, and the Environment…
"McCarthy explores consumers'' attachments to automobiles—their sense of status in relation to the larger society—that have had important repercussions for the environment."—Sally H. Clarke, University of Texas at Austin

-Sally H. Clarke

"This engaging and well-researched book takes on the product life cycle of the automobile in the twentieth century. A very interesting project."—Martin Melosi, University of Houston

-Martin Melosi

"McCarthy looks at the environment broadly and constructs an interesting mixture of social, economic, political, and environmental history of the car not found elsewhere."—J. Brooks Flippen, Southeastern Oklahoma State University

-J. Brooks Flippen

"Auto Mania is a high speed, insightful and fascinating cruise through important and fascinating eras in the auto industry. From the early years of the horseless carriage, through the explosion of affordable transportation spawned by Henry Ford to the modern era of regulation of emissions and fuel economy. Tom McCarthy's description of the early days of government regulation through the eyes of key players is unique and dramatically contributes to our understanding of a transformational period of importance to all of us."—David E. Cole, Center for Automotive Research

-David E. Cole

". . . superb snapshots of paths taken and missed in the history of auto manufacturing . . . with a[n] . . . emphasis on [its] environmental impact. . . . Scholars and students of business and economic history, as well as the history of technology, will find insights . . . "—Brian Black, Enterprise & Society
-Brian Black

". . . a history of twentieth-century American automobile culture for a new generation. . . . traces the complex relationship among cars, consumerism, politics, and the environment in a way sure to be useful. . . . A must read . . ."—Kevin L. Borg, Technology and Culture
-Kevin L. Borg
Yale University Press, 9780300110388, 368pp.
Publication Date: September 1, 2007
About the Author
Tom McCarthy is associate professor, History Department, United States Naval Academy.
or
Not Currently Available for Direct Purchase