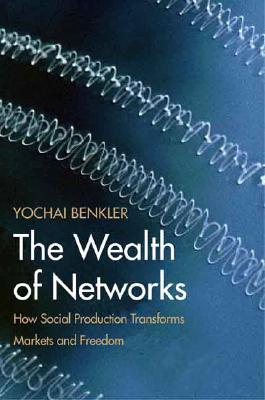 The Wealth of Networks
How Social Production Transforms Markets and Freedom
Hardcover

* Individual store prices may vary.
Other Editions of This Title:
Paperback (10/23/2007)
Description
With the radical changes in information production that the Internet has introduced, we stand at an important moment of transition, says Yochai Benkler in this thought-provoking book. The phenomenon he describes as social production is reshaping markets, while at the same time offering new opportunities to enhance individual freedom, cultural diversity, political discourse, and justice. But these results are by no means inevitable: a systematic campaign to protect the entrenched industrial information economy of the last century threatens the promise of today's emerging networked information environment.
In this comprehensive social theory of the Internet and the networked information economy, Benkler describes how patterns of information, knowledge, and cultural production are changingand shows that the way information and knowledge are made available can either limit or enlarge the ways people can create and express themselves. He describes the range of legal and policy choices that confront us and maintains that there is much to be gainedor lostby the decisions we make today.
Praise For The Wealth of Networks: How Social Production Transforms Markets and Freedom…
"At last a book that confronts the politics and economics of the Internet in a fundamental way, moving beyond the surface of policy debate to reveal the basic structure of the challenges we confront."—Bruce Ackerman, Sterling Professor of Law and Political Science, Yale University



-Bruce Ackerman

"A magnificent achievement. Yochai Benkler shows us how the Internet enables new commons-based methods for producing goods, remaking culture, and participating in public life. The Wealth of Networks is an indispensable guide to the political economy of our digitally networked world."—Jack M. Balkin, Professor of Law and Director of the Information Society Project, Yale University



-Jack M. Balkin

"In this book, Benkler establishes himself as the leading intellectual of the information age. Profoundly rich in its insight and truth, this work will be the central text for understanding how networks have changed how we understand the world. No work to date has more carefully or convincingly made the case for a fundamental change in how we understand the economy of society."—Lawrence Lessig, Professor of Law, Stanford Law School



-Lawrence Lessig

"A lucid, powerful, and optimistic account of a revolution in the making."—Siva Vaidhyanathan, author of The Anarchist in the Library




-Siva Vaidhyanathan

"This deeply researched book documents the fundamental changes in the ways in which we produce and share ideas, information, and entertainment. Then, drawing widely on the literatures of philosophy, economics, and political theory, it shows why these changes should be welcomed, not resisted. The trends examined, if allowed to continue, will radically alter our lives—and no other scholar describes them so clearly or champions them more effectively than Benkler."—William W. Fisher III, Hale and Dorr Professor of Intellectual Property Law, Harvard University, Director, Berkman Center for Internet and Society



-William W. Fisher III
Yale University Press, 9780300110562, 528pp.
Publication Date: May 1, 2006
About the Author
Yochai Benkler is the Joseph M. Field 55 Professor of Law at Yale Law School, Yale University."
or
Not Currently Available for Direct Purchase