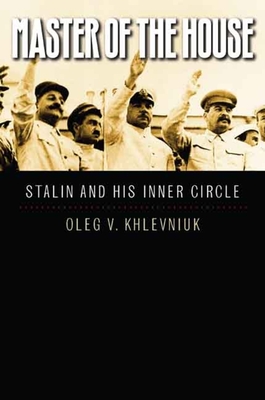 Master of the House
Stalin and His Inner Circle (Yale-Hoover Series on Authoritarian Regimes)
Hardcover

* Individual store prices may vary.
Description
Based on meticulous research in previously unavailable documents in the Soviet archives, this compelling book illuminates the secret inner mechanisms of power in the Soviet Union during the years when Stalin established his notorious dictatorship. Oleg V. Khlevniuk focuses on the top organ in Soviet Russia's political hierarchy of the 1930s—the Political Bureau of the Central Committee of the Communist Party—and on the political and interpersonal dynamics that weakened its collective leadership and enabled Stalin's rise.
Khlevniuk's unparalleled research challenges existing theories of the workings of the Politburo and uncovers many new findings regarding the nature of alliances among Politburo members, Sergei Kirov's murder, the implementation of the Great Terror, and much more. The author analyzes Stalin's mechanisms of generating and retaining power and presents a new understanding, unmatched in texture and depth, of the highest tiers of the Communist Party in a crucial era of Soviet history.
Praise For Master of the House: Stalin and His Inner Circle (Yale-Hoover Series on Authoritarian Regimes)…
"I have no doubt that this brilliant book will supplant all others as an analytical account of the Stalinist political system in the 1930s."—Robert Service, St. Antony's College, Oxford
— Robert Service

"This is an extraordinary book, the prequel to Khlevniuk and Gorlizki's Cold Peace, and an equally important contribution to our understanding of the 'court politics' of the Stalin era. It is simply unique, unparalleled, and indispensable to anyone who wants to understand how the Soviet Union was ruled in the 1930s. Khlevniuk is the master of the archives—no one knows them better."—Ronald Grigor Suny, The University of Michigan
— Ronald Grigor Suny

Chosen as an Outstanding Academic Title for 2009 by Choice Magazine
— Choice

"This book confirms Khlevniuk's status as the leading authority on the highest Party bodies in the Stalin era."--James Harris, Journal of Modern History

— James Harris
Yale University Press, 9780300110661, 344pp.
Publication Date: December 30, 2008
About the Author
Oleg V. Khlevniuk is senior research fellow at the State Archive of the Russian Federation. He is author of The History of the Gulag and coeditor of Stalin's Letters to Molotov, 1925–1936 and The Stalin-Kaganovich Correspondence, 1931–36, all published by Yale University Press. He lives in Moscow.
or
Not Currently Available for Direct Purchase