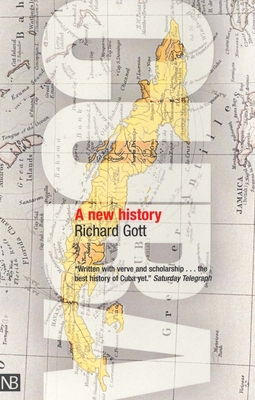 Cuba
A New History
Paperback

* Individual store prices may vary.
Description
This new look at the history of Cuba illuminates the island's entire revolutionary past as well as the most recent decades of the Castro regime

Events in Fidel Castro's island nation often command international attention and just as often inspire controversy. Impassioned debate over situations as diverse as the Cuban Missile Crisis and the Elián Gonzáles affair is characteristic not only of modern times but of centuries of Cuban history. In this concise and up-to-date book, British journalist Richard Gott casts a fresh eye on the history of the Caribbean island from its pre-Columbian origins to the present day. He provides a European perspective on a country that is perhaps too frequently seen solely from the American point of view.

The author emphasizes such little-known aspects of Cuba's history as its tradition of racism and violence, its black rebellions, the survival of its Indian peoples, and the lasting influence of Spain. The book also offers an original look at aspects of the Revolution, including Castro's relationship with the Soviet Union, military exploits in Africa, and his attempts to promote revolution in Latin America and among American blacks. In a concluding section, Gott tells the extraordinary story of the Revolution's survival in the post-Soviet years.
Praise For Cuba: A New History…
"This is an accessible and well researched account by Gott."—Richard Lapper, Financial Times
"Written with verve and scholarship, Cuba: A New History isthe best history yet of this beautiful West Indian Island."—Ian Thomson, Saturday Telegraph
"Richard Gott's invaluable Cuba: A New History dispelsmany convenient myths."—Adam Feinstein, The Guardian
"An excellent addition to Hugh Thomas's classic Cuba and other more recent histories, this book is highly recommended for public and academic libraries."—Library Journal
"This delightfully written, nicely illustrated book makes a significant contribution to the burgeoning literature on the Cuban revolution. Eight expertly crafted chapters and a short epilogue trace the fascinating, complex history of Cuba from its settlement by the Spanish in the early 16th century to the present. . . . Highly recommended."—
Choice
"Gott is always an interesting, well-informed, and engaging writer."—Foreign Affairs
"Told with simplicity and a fresh synthesis. . . . A wonderful account combining powerful journalistic skills and insightful scholarship."—Eliseo Cardona, South Florida Sun-Sentinel
"The author should be commended for writing a balanced view of the often politically charged history of Cuba. This work will be of interest to those with limited knowledge of the island and its people who desire an introduction to its rich past. . . . Suitable for use in undergraduate courses."—William Van Norman,
The Historian
Chosen as an "Outstanding" academic title in 2006 by
Choice Magazine
Yale University Press, 9780300111149, 400pp.
Publication Date: November 11, 2005
About the Author
Richard Gott, a British journalist and historian with many years' experience in Latin America, first visited Cuba in 1963 and has reported from the island many times since. He is the author of the classic work on post-Castro revolutionary movements, Guerrilla Movements in Latin America, and most recently of In the Shadow of the Liberator: Hugo Chavez and the Transformation of Venezuela.