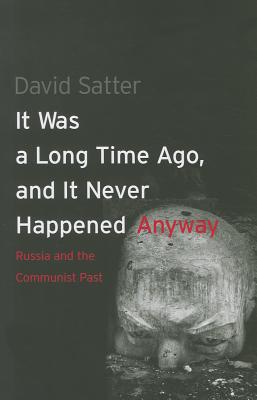 It Was a Long Time Ago, and It Never Happened Anyway
Russia and the Communist Past
Hardcover

* Individual store prices may vary.
Other Editions of This Title:
Paperback (1/22/2013)
Description
Russia today is haunted by deeds that have not been examined and words that have been left unsaid. A serious attempt to understand the meaning of the Communist experience has not been undertaken, and millions of victims of Soviet Communism are all but forgotten. In this book David Satter, a former Moscow correspondent and longtime writer on Russia and the Soviet Union, presents a striking new interpretation of Russia's great historical tragedy, locating its source in Russia's failure fully to appreciate the value of the individual in comparison with the objectives of the state.
Satter explores the moral and spiritual crisis of Russian society. He shows how it is possible for a government to deny the inherent value of its citizens and for the population to agree, and why so many Russians actually mourn the passing of the Soviet regime that denied them fundamental rights. Through a wide-ranging consideration of attitudes toward the living and the dead, the past and the present, the state and the individual, Satter arrives at a distinctive and important new way of understanding the Russian experience.
Praise For It Was a Long Time Ago, and It Never Happened Anyway: Russia and the Communist Past…
"A sweeping study of how the former Soviet Union's bloody past continues to poison Russia's present and threatens to strangle the country's future."—Newsweek

"A fascinating, deeply thoughtful and researched study that contributes mightily to the ongoing humanist debate."—Kirkus Reviews

"Satter's reflective, expert analysis of a Russian society in moral and cultural flux after the end of communism provides great food for thought beyond today's headlines."—Publishers Weekly

"David Satter delivers one of the most harrowing stories of all time. . . This is a rare book by many measures, not least of which is the way in which Satter captures the magnitude of Russian atrocities and the frightening realities that people accept as part of their daily lives. By no means is Russia unique in being a nation that must grapple with the question of national cruelty and corruption. . . but its rich history makes it story all the more fascinating—and tragic."—Jedd Beaudoin, PopMatters
-Jedd Beaudoin

"A meticulous, sweeping and wrenching history of Russia's burial of Soviet crimes. It is also a sensitive, compelling and convincing exploration of the importance of memory. But it makes a broader contention - that forgetting is a symptom of an illness that Russia contracted before the Soviet era. . . a humane, measured, first-hand, historically and philosophically rooted argument that is hard to refute."—Andrew Gardner, European Voice
-Andrew Gardner

"David Satter has written a book full of vivid and well chosen anecdotes. . . . The use of nostalgia is Satter's field. Russia is not, he believes, able to give itself a chance; in love with their chains, its people cannot face up to the horrors of a past they wish to ignore or romanticize."—John Lloyd, Financial Times
-John Llyod

"Impeccably argued. . . Satter is a man whom no Russian leader would wish to meet, let alone shake by the hand, but he has their measure."—Donald Rayfield, Literary Review
-Donald Rayfield

"[Satter] does a brilliant job of chronicling the human consequences of Communism."—The National Review

"David Satter has really captured the role of the past in the present in Russia. . . . He feels that the Soviet Union hollowed out both public and private morality and left people without a moral compass when it collapsed. . . . The title of his book is the quintessence of the Putinist attitude to the past."—Edward Lucas, The Browser
-Edward Lucas

"Satter grapples with an elemental failing of Russia's leaders and people. . . . Russia, he argues, refuses to face the fundamental moral depravity of its Soviet past. . . . Expansive and brilliantly explored . . . compelling."—Foreign Affairs

"Truly illuminating….Satter is both a gifted journalist and a chronicler of intellectual and political currents….Splendidly researched and engagingly written, this book offers invaluable vignettes of various reactions to the still unprocessed remembrance of totalitarian times."—Vladimir Tismaneanu, International Affairs
-Vladimir Tismaneanu

"David Satter has written a classic of its kind, investigating the psychological reactions that modern Russians feel towards the crimes of their Communist forebears."—Andrew Roberts, The American Spectator
-Andrew Roberts

"Compelling, a journalist's book."—Choice 
Yale University Press, 9780300111453, 383pp.
Publication Date: December 13, 2011
About the Author
David Satter is senior fellow, Hudson Institute, and fellow, Foreign Policy Institute of Johns Hopkins University School of Advanced International Studies. He was Moscow correspondent for the "Financial Times "from 1976 to 1982, then a special correspondent on Soviet affairs for the "Wall Street Journal."
or
Not Currently Available for Direct Purchase