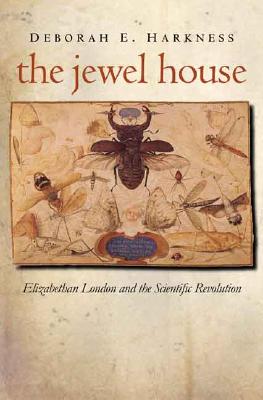 The Jewel House
Elizabethan London and the Scientific Revolution
Hardcover

* Individual store prices may vary.
Other Editions of This Title:
Digital Audiobook (10/12/2014)
Paperback (10/28/2008)
Compact Disc (10/13/2014)
MP3 CD (10/13/2014)
Description
Bestselling author Deborah Harkness (A Discovery of Witches, Shadow of Night) explores the streets, shops, back alleys, and gardens of Elizabethan London, where a boisterous and diverse group of men and women shared a keen interest in the study of nature. These assorted merchants, gardeners, barber-surgeons, midwives, instrument makers, mathematics teachers, engineers, alchemists, and other experimenters, she contends, formed a patchwork scientific community whose practices set the stage for the Scientific Revolution. While Francis Bacon has been widely regarded as the father of modern science, scores of his London contemporaries also deserve a share in this distinction. It was their collaborative, yet often contentious, ethos that helped to develop the ideals of modern scientific research.The book examines six particularly fascinating episodes of scientific inquiry and dispute in sixteenth-century London, bringing to life the individuals involved and the challenges they faced. These men and women experimented and invented, argued and competed, waged wars in the press, and struggled to understand the complexities of the natural world. Together their stories illuminate the blind alleys and surprising twists and turns taken as medieval philosophy gave way to the empirical, experimental culture that became a hallmark of the Scientific Revolution.
Praise For The Jewel House: Elizabethan London and the Scientific Revolution…
"This is a wonderful book, full of fascinating detail and stories from a lost world. It will have wide circulation among historians of science and technology, historians of England, and cultural historians in general."—Pamela Smith, Columbia University


-Pamela Smith

"The Jewel House of Art and Nature is by far the finest exploration ever undertaken of scientific culture in an early modern metropolis. Vivid, compelling, and panoramic, this revelatory work will force us to revise everything we thought we knew about Renaissance science."—Adrian Johns, author of The Nature of the Book


-Adrian Johns

"In this vivid portrait of the scientific practitioners of Elizabethan London, Deborah Harkness draws on extensive archival research to portray the city as a crucial source of social and scientific innovation and inspiration to Francis Bacon."—Ann Blair, Harvard University
-Ann Blair

"A fascinating account of the worlds of late-sixteenth-century claimants to knowledge, both practical and speculative, in the London of the young Francis Bacon."—Peter R. Dear, Technology and Culture
-Peter R. Dear

". . . a delight to read . . . convinces as good historical discussions should: through the overwhelming weight of meticulously assembled evidence. . . . essential reading for any student of premodern science. It makes valuable and timely contributions to the history of science . . ."—Frank Klaasen, Canadian Journal of History
-Frank Klaasen

". . . vital and original. . . . Harkness has broadened the well-trodden path of the social history of science in a way that will challenge and shape any future efforts to describe the emergence of the Scientific Revolution. . . . [A] splendid book."—Lisa T. Sarasohn, Project Muse
-Lisa T. Sarasohn
Yale University Press, 9780300111965, 384pp.
Publication Date: October 1, 2007
About the Author
Deborah E. Harkness is professor of history, University of Southern California.She isthe author of John Dee s Conversations with Angels: Cabala, Alchemy, and the End of Nature and of the New York Times bestseller A Discovery of Witches."
or
Not Currently Available for Direct Purchase